There are a few ways you can distress your painted furniture. Here are some of the different techniques you can use to distress…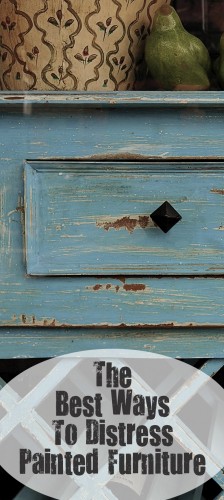 Most of the time, you will want to use either a hand sander or an electric sander to distress your furniture.  But there are a few things to know about this.  When distressing, the type of grit your sandpaper is will create different effects.  The higher the grit, (320, 400) the more smooth your surface will be.  Also, finer grits will remove paint more slowly.  So, if you are unsure about how much paint you really want to remove, then, I would start with the finer grits.  If you distress with the coarser grits (80, 120, 220) then you will be removing a lot of paint very quickly, but if this is the look you are going for, then that works.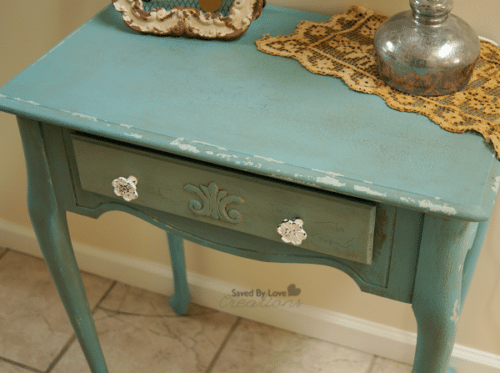 Hand Sander or Electric Sander– If you use an electric sander, you will remove a lot of paint very quickly.  But, if you want a really distressed piece, then you could all the distressing very quickly.  I usually use a handheld sanding pad, so that I can easily control how much distressing I want to do.
Move Along Edges – When distressing, move along the edges of the piece, edges of drawers, beveled areas, legs, corners.  For a more heavily distressed piece, you can work your way into the center areas of the piece.
Petroleum Jelly Technique – For a chippy paint look, you can apply a little petroleum jelly to random areas all over the piece before you paint it.  Then, once it is fully painted, even using a handheld non-electric sander, the paint that was over the petroleum jelly will come off easily and create an aged, chipped paint look.