Picking my favorite paint brush is like picking my favorite child. They each have their own unique qualities that make them special, unique, and important. A high-quality brush makes any paint job better (and easier) by saving time and creating beautiful results.
If you walk into any home improvement store to pick the right paint brush, it's a little bit like walking into the Ollivanders to find the perfect wand (yes, I am a Harry Potter addict). But it's true, there are all different shapes and sizes and angles it can be overwhelming. There are two rules I always go by when picking up a paint brush.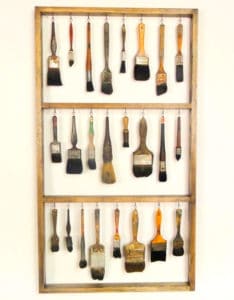 Cheaper is never better
If you buy the more expensive brushes, you don't have to buy as many, and they will last you for an endless number of DIY projects. A 50-cent foam brush, or a $2 bristle brush likely won't last through the day.
Less is more
Despite the number of paint brushes available, you really don't need that many. A well-rounded family of paint brushes can carry you through project after project after project.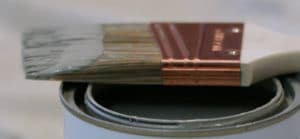 Here's my lineup of must-have paint brushes.
The Crowd Pleaser:

This is a 4-inch brush for large surfaces that flat, square, comfortable and easy to use.

The Cutter

: For cutting in edges, I always stick with a 2-inch brush with tapered edges.

The Detailer

: This is for woodwork, molding, trim, or other intricate pieces. I need a 1-inch with a chisel trim

The Framer

: For precise painting of frames without taping everything off I use an angled sash brushes between 1-inch and 2 ½-inch wide, depending on the project.

The Roller

: I like to keep one 4-inch roller on hand. It makes it easier to paint a large surface when I don't want any brush strokes.
Choose nylon or polyester brushes for any latex paint project, leave the natural bristles for oil paint only. You also want a brush that has split ends and flex at the tips (play with them at the store and make sure they spring back into shape quickly). Pull on the bristles and make sure no more than one or two can easily be pulled out. Be sure the bristles are at least half as long as the width (i.e. the bristles on a 2-inch wide brush should be 3-inches or more in length. Finally, make sure the brush feels comfortable in your hand, not too light and not too heavy.
On your way out of the store pick up a couple of cheap drop cloths and a quart-size paint bucket and you're ready to go.