Painted Furniture Ideas
It's springtime! For me that means I can finally put out my front porch flowers and breath some new curb appeal into my décor. I recently found bright blue painted pots that I absolutely loved. It was the perfect color, the perfect size (huge), and would look great on my front porch. The only problem? One pot was over $100. I knew there had to be a better solution.  As I perused the store, I noticed the plain terra-cotta pots in the same size for a fraction of the cost. Painting clay pots is an easy and inexpensive way to dress up your garden or front porch and couldn't be easier.
Painted pots are the perfect canvas for any type of design, color, texture, or painting technique because they don't require any prep work, and they are inexpensive. Some DIY-ers will soak their pots in a tub of warm water for an hour or so to "prep" the pot, but I haven't been able to find the purpose of this step. Instead, I just give them a good washing and remove the price tags and any stickers from the store.
Start with a base coat and apply with a basic foam brush. Naturally, the terra cotta will start to soak up the paint quickly. Here's where the fun part comes in. After you have brushed on your base coat, you can mix with other colors, and as each color gets soaked into the pot, you create a beautiful depth of color.
Then you can add any type of design, like this starburst pattern from Fine Gardening.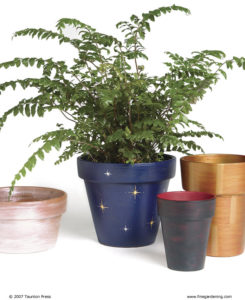 I also love this patriotic painted pot from The Scrap Shoppe Blog.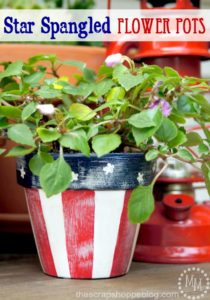 This would also be a great project for kids. The pots are very forgiving, and they can put handprints, polka dots, or a variety of designs that are special to them.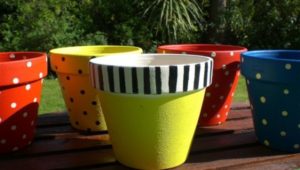 You can also stack your painted pots and use them as décor, or even house number markers, I love this idea from Tug Unicorn.