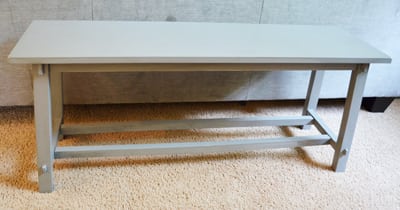 Here is the before picture.
I bought this bench at Homegoods on sale, its cute, but I thought it was a little bland.  I decided to dry brush some Annie Sloan Chalk Paint 'old white' over the the top of it to give it a little more rustic look.
To start, I used a large, thick paintbrush and two paper plates.  I put maybe a 1/4 cup of paint on one paper plate and then dabbed the paintbrush in that.  Then, I used the other paper plate to go back and forth on with the paint brush to wipe off all the excess paint.