Remodeling your home isn't something you decide to do on a wimp and start the next week. We plan for our remodels by research materials, getting ideas off Pinterest (thank you!) and set a budget.
I started planning our remodel years ago. I knew what I didn't like in our home. I didn't know what I wanted. Houzz.com and Pinterest are great starters when you are seeking visual inspiration. After a few days of looking at these sites, I had a new problem. Limiting what I wanted to do with our canvas of a home.
Then I researched how to get the look I wanted, on my own budget.
What could I DIY? What should I hire out? What material did I want for the countertop, the fireplace, etc.
My best advice for you is to research as much as you can BEFORE you spend any money or start your demolition.

If you 'd like specifics on my timeline check out this article:https://paintedfurnitureideas.com/how-to-not-waste-time-during-remodel/

The Kitchen
BEFORE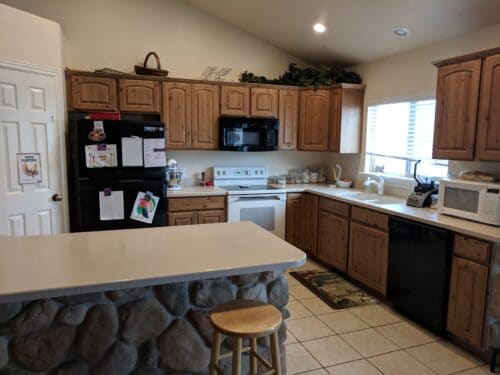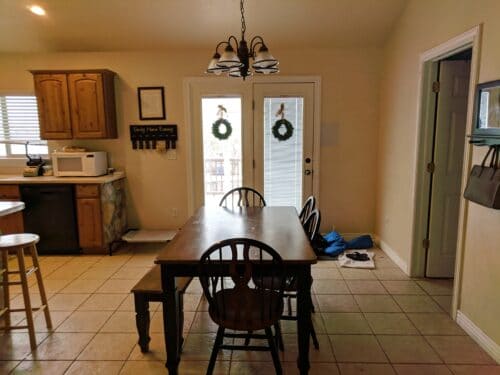 What we removed:
Faux stone what wasn't washable, and there for covered in mysterious stains
Peninsula that created a jammed corner right by the pantry
Corner pantry that took up too much counter space (no I don't miss it)
Tile floor that was freezing cold in the winter and miserable to clean (goodbye grout!)
Knotty alder cabinets that were falling apart left and right
Old cream colored appliances, that worked when they felt like it.
Side door to the garage (which was upgraded to a pocket door)
Much loved and abused kitchen table and chairs
AFTER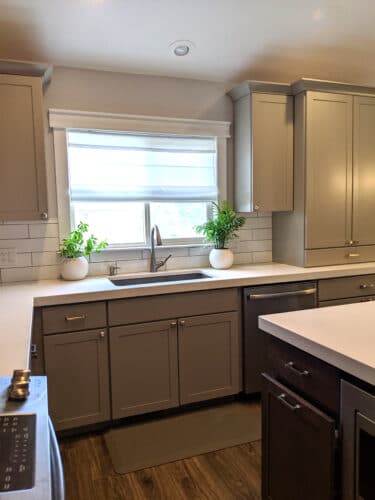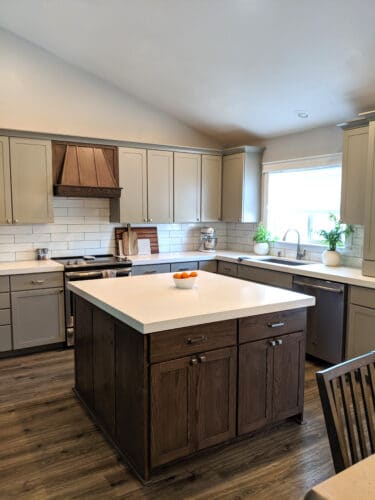 Materials used:
Aquaguard laminate flooring
Conestoga hardwood cabinets
Arctic White Quartz 3cm countertop with a 2.25" miter lift
LG Stainless steel appliances
New farmhouse sink with one opening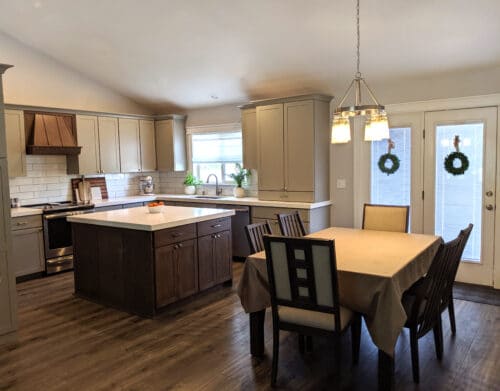 The Laundry Room
BEFORE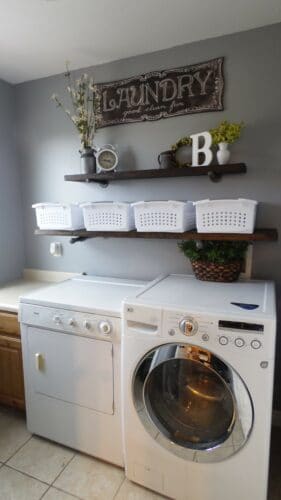 What we changed:
Stack the washer and dryer to make more room (BEST idea EVER!!)
Remove side cabinet, for a larger cabinet and countertop
Add additional wall cabinetry (I love them)
Add a side bench for shoes
New paint to match the rest of the home
Removed a corner closet, for more space in the room
AFTER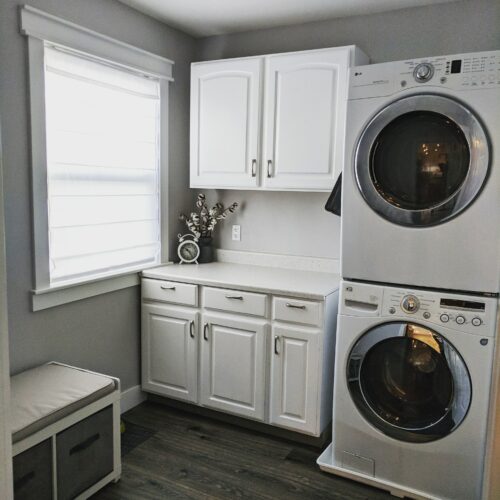 The room didn't need very much done, but it feels so different. The pocket door was easy to install and saved so much space for traffic coming in and out of the home. Stacked washer and dryers gave more workspace for laundry. I don't miss my old corner closet since all my storage fits in my wall cabinets, but I have so much more floor space.

The Family Room

BEFORE: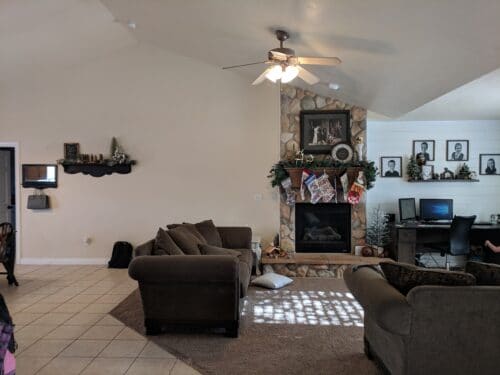 What we removed:
Faux stone on the fireplace
Large fireplace platform to create more space
Nasty old carpet
Old couch set
AFTER: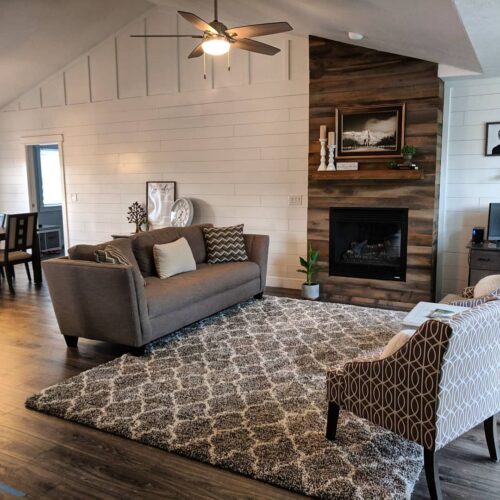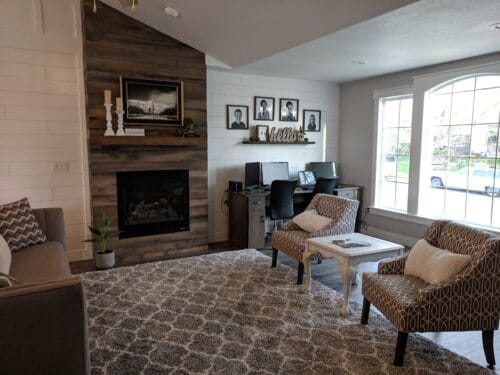 The room feels so much bigger due to the large white shiplap wall. It brings in so much light into the room. For details about my fireplace makeover read this article:
Materials used:
Aquaguard laminate flooring
Cedar planks for fireplace
New couches from a local furniture store
Underlayment for shiplap wall
The Hall Bathroom
BEFORE: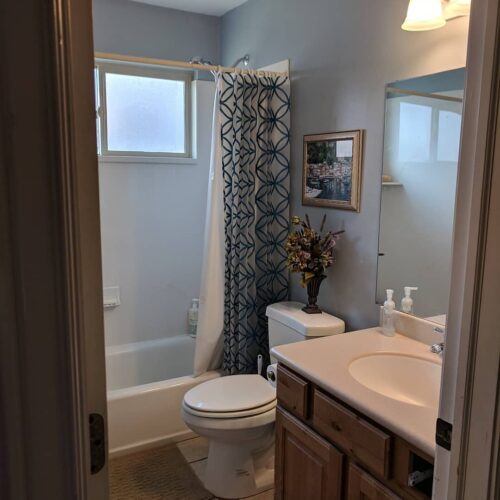 What we changed
New paint for the walls
Tille replaced a wrapped faux marble shower
A new cabinet that was slightly larger, with the sink to the side for more counter space
New tile flooring
AFTER: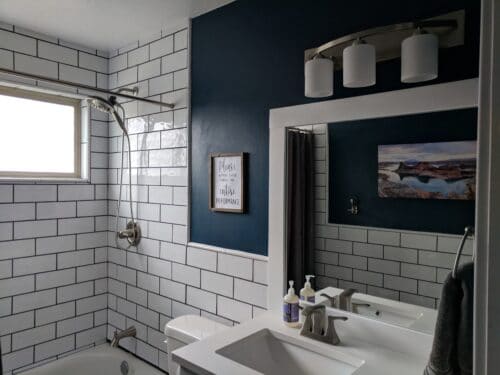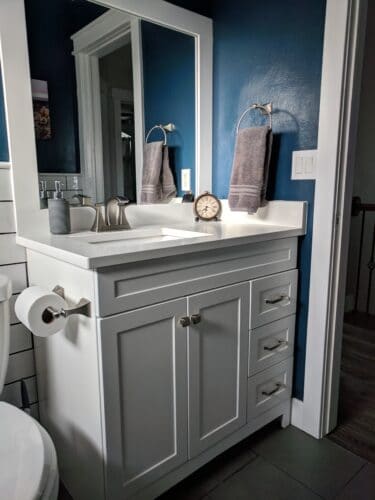 The Master Bathroom
BEFORE: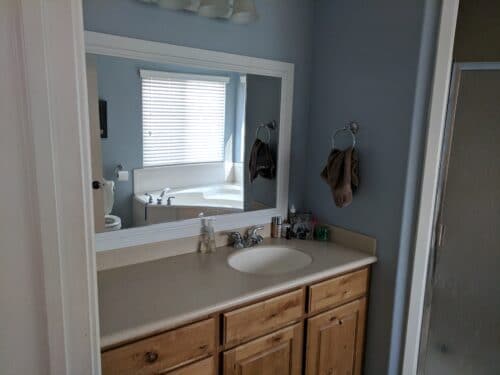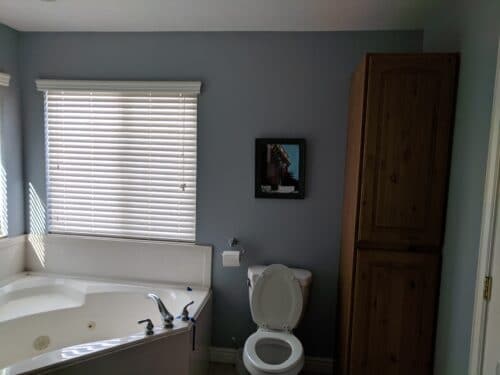 What we removed:
Large corner tub I never used
Large linen cabinet
Pink tile flooring
Bathroom cabinets that were falling apart
Corner shower that took up too much space
AFTER: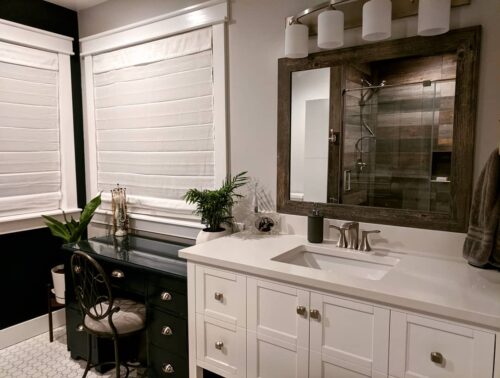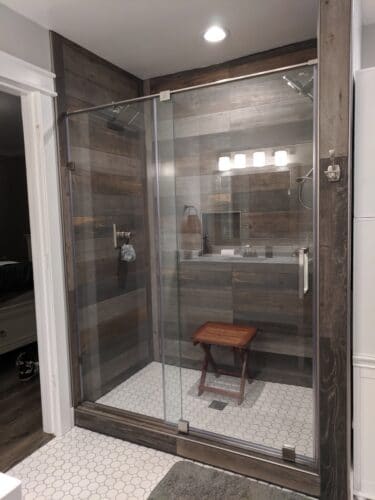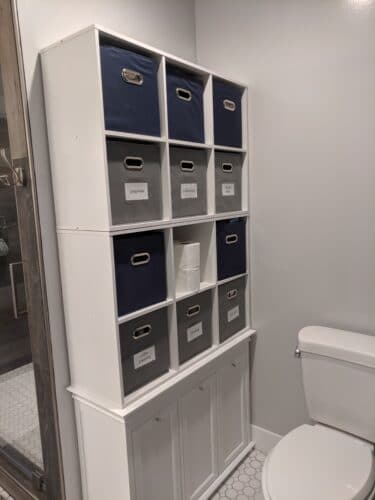 New tile flooring
Larger two head shower against the wall
Hide the toilet for more privacy
Added a second vanity for more workspace
Linen storage area behind the shower wall
We found that we didn't use the space efficiently in the bathroom. We moved the shower, toilet, and sinks, which did require changing the plumbing, but it created so much more space in our bathroom and allowed for an overall user-friendly room.
The new aquaguard flooring (laminate) continued in the bedrooms, as well as the new gray wall paint. Overall we have more space in our home, which helps if feel larger, yet we have MORE cabinets and storage in EVERY room.
When planning your remodel, ask for everyone's opinion, and take into consideration their opinions, and then do what YOU want. You are the one to live with it. Remodeling your home is exhausting, and a lot of work. Plan and research well before so you have a clear plan on what your vision is.

For tips on sticking to your budget, and saving money click here!
If you are demolishing any part of your home learn some tips here!