Everyone loves a kitchen Island! Not only do they give you extra counter space, which transfers to more work space, but they also provide more storage area. Lets not forget the added benefit of more travel flow in your kitchen. You can get the other side of the kitchen from either direction, unlike the limiting peninsula.
For 18 very long years I had a kitchen peninsula.  I just installed an island over a year ago, and I am in love with it!  Oh, I wish I had made the change sooner.  It opened up my kitchen while providing storage and work space.  I seriously LOVE my kitchen now.  Having an island installed, can be pricy, but have no fear I have DIY Kitchen Islands to get your creative juices flowing, for your kitchen makeover. 
Some of these DIY kitchen island ideas are using old furniture and adjusting it to make the prefect island, other ideas are starting from scratch. Either way, I have something for your skill level and budget!
1- This DIY kitchen island was made for $30 and one trip to Lowes.  All measurements are listed, and you can ask the hardware employee to cut all the pieces for you!  Check out this tutorial here. https://mominmusiccity.com/30-diy-kitchen-island/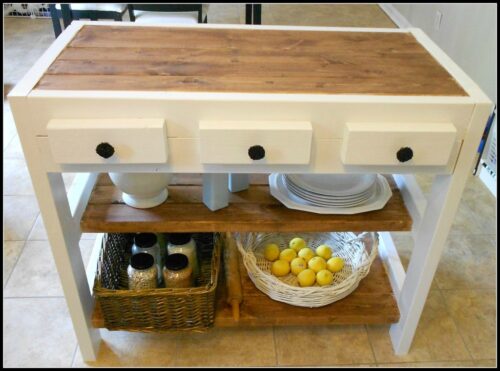 2- Want to hide your trash can in your new kitchen island?  Look no further at this other build it yourself island project, from www.shadesofblueinteriors.com. This island not only has a trash compartment, but it also has open shelving for cookbooks, pantry items, or seasonal decor. This tutorial does require power tools and general knowledge of carpentry.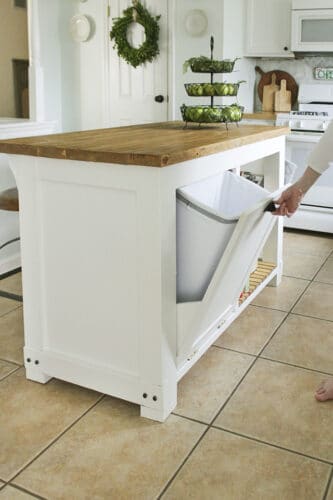 3-If you are looking for something you can finish in a day, look no further. This homeowner found a sofa table or console at a thrift store, and repainted it. Then she glued on a butcher block top, and allowed if to full dry under wood clamps. Easy as that, she now has a kitchen island! Good job Liz!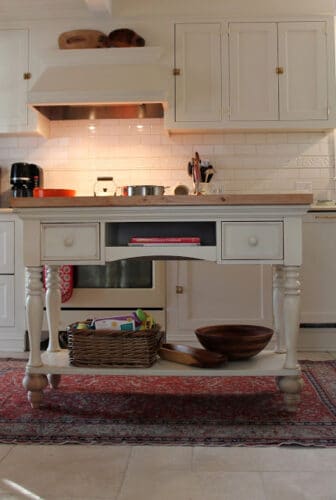 https://designingdomesticity.blogspot.com/2012/11/diy-kitchen-island.html
4-This kitchen island started from used furniture as well.  Dressers are great islands, because they have so much built in storage.  They also have solid side walls so you can add paper towel holders, or a rack for a hand towel.  I love the hooks they added for their cooking utensils. What a great color too!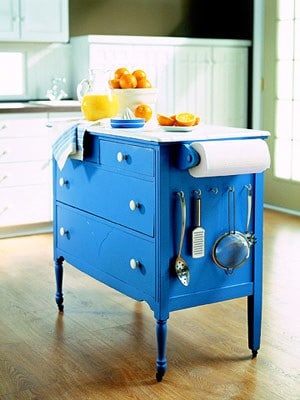 5- Many people don't add an island because they don't think they have enough room in their kitchen. This shanty tutorial features a small island that can fit most kitchens. Shanty Chic provides free plans to build this island, but note that you must have a Kreg jig to complete this project. I love the farmhouse look this islands harnesses with the natural wood, a pop of wicker on the bottom basket, and the touch of white china in the open shelving.
6. This Island is moveable people!  Moveable!  How great is that?  This island also uses existing furniture.  Ikea sofa tables are the key ingredient to this DIY kitchen island.  Once the softa tables were painted, the used tension rods to create dividers for the cookie sheets and the power towels.  Cubby baskets that kit just right hide small appliances.  Finish it off with a countertop which you can find at large hardware stores.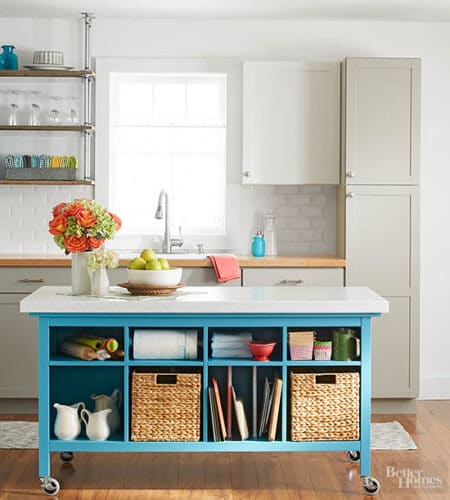 7. A more permanent kitchen island is this one made out of stock cabinets.  Stock kitchen cabinets can be found at Lowes or Home Depot, or check thrift stores for used cabinets.  Use wood shims to fill in any caps between the cabinets, and nail them all together to make one solid cabinet unit.   Then a large wooden top was stained and glued on to the top.  Sammy Pampani, cut the top extra large so there was an overhang for some bar stools on one side!  You can follow her and more of her projects on instagram!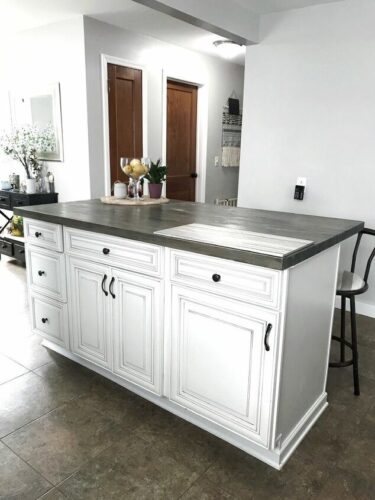 8. This DIY kitchen island even has an opening for a microwave people!  My microwave is in my island and I LOVE it.  It no longer takes up space on my countertop or taking space from overhead cabinets.  Check out this tutorial on how you can build your own island from start to finish.  Power tools are required for this one.  She did a great job on the side paneling and finish work.  
9.  This kitchen island was made out of bookshelves. They took 4 bookshelves, and placed them side by side.  There is a sink in this island.  You can simple cut out the area the sink will be installed.  Again, use shims to fill in any gaps and to achieve a perfectly level island.  Trim was added along the bottom of the bookshelves for a great finish look.  Keep in mind that with any used furniture the wood needs to be real wood and not MDF to withstand a heavy stone countertop on them.  I wish I could give credit to whoever made this island, they did a great job!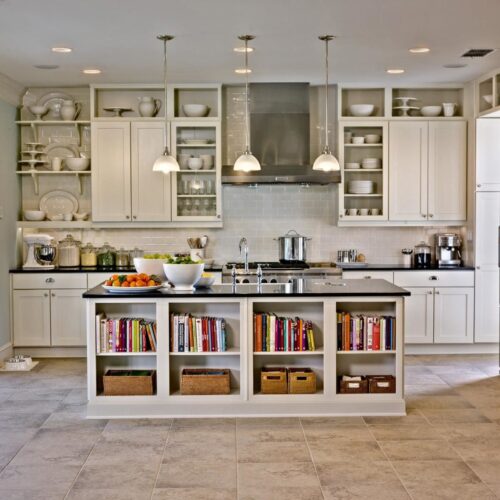 I hope these DIY kitchen islands have sparked some excitement and creativity in your kitchen makeover plans. For other ideas check out the following articles:
Mistakes to Avoid when Painting kitchen Cabinets
Mistakes to Avoid when Painting Kitchen Tables