Wallpaper isn't what your grandma thought it was. Today wallpaper is easy to install, clean and requires no pans of water, buckets of glue and hours of patience. Transform your kitchen into a farmhouse look, give it a modern edge, or just upgrade your kitchen on a small budge. You can do it all with wallpaper.
Brilliant designers have realized that wallpaper needs to be easy to install, and have created large stickers that peel and stick to any wall. It really is that easy. You are adhering a very large sticker! Here are some tips to get that wallpaper smooth and perfect for a professional look.
Love the farmhouse brick look, but don't have THOUSANDS of dollars for brick that is hard to clean and porus to fish odors? Check out this kitchen…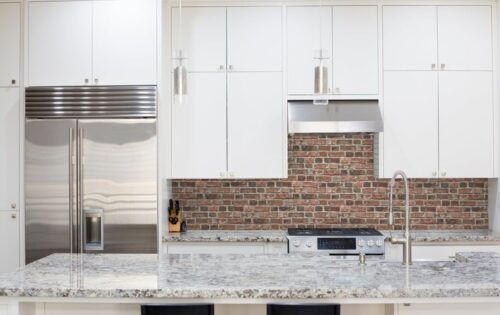 …It is wallpaper!!
Are you ready to take your hand at is and transform your kitchen?
Before you jump the gun and install the wallpaper, you need to clean and dry your wall. If it has dust on it like every wall does, the sticker will not adhere. If the wall is at all wet, your sticker will not adhere.
Clean the wall down with a lightly damp cloth, and let the wall dry for 1 hour prior to applying the wallpaper.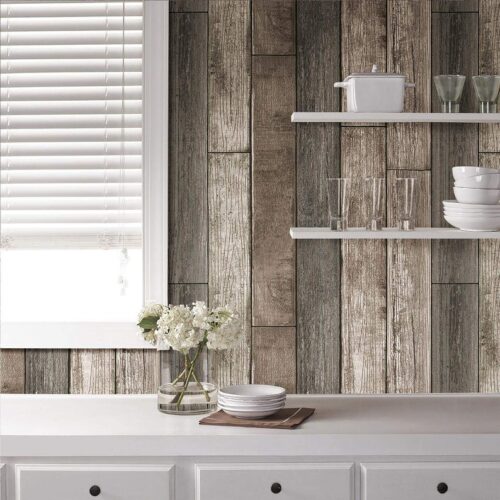 Installation
Installation is must easier, but it still does require some extra finesse. You will want a straight edge, using a level, squeegee or other large flat edge is a must. You also want a level to create a straight edge.
Step 1: Mark a straight line on your wall.
The corners of your wall are probably not perfect, so don't use that as your guide. Create your own line with a large level placed vertically on the wall, 1 inch narrower than your strips. If your wallpaper comes in 36' strips, measure out 35 inches from the corner. This will be your straight edge to work from. You can then use an exacto knife to trim the corner perfectly.
Step 2: Make consecutive guidelines along the wall. 
Now that you have your straight line, measure out the exact measurement for consecutive strips to be placed. If your wallpaper is 36 inches wide, you will measure and mark lines every 36 inches.
Step 3: Install the first strip. 
Start at the highest part of the wall you are covering and work your way down, exposing only 12 inches or so of the sticker at a time. Use your straight edge tool, such as a squeegee to smooth out the sticker.
Remove more backing of the sticker as you work your way down, working with 12 inches at a time.
If you get air bubbles, back up and work on that area before you continue.  Smooth out the air pocket by pushing the air towards the side seam. 
Take your time on this step. The first strip will effect the following applications, so make sure you get it right, and focus on your inner OCD.
Step 4: Trim bottom edge.
Place your straight edge tool against the bottom of the wall.  While pressing against the wall, use an utility knife or exacto knife to trim the excess sticker.  
…and REPEAT
Repeat this step for each additional strip of wallpaper. Make sure you stay on your marked lines. If you do mess up and get off the gridlines you have two choices.
If it is a slight error, re-mark your lines, and move forward with your wallpaper. Chances are no one will notice, and know you know the perfect place to hang your wall art.
If the error is significant. Remove the wallpaper strip and take a deep breath. Start again with slow precision. Once you have your wallpaper in place, use glue to adhere the edges and corners. Your wallpaper will not restick as strongly as before and you don't want it to peel overtime.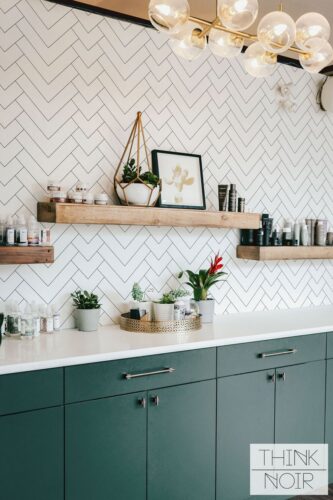 Step 5: Press one more time
Go around the entire wall one more time, pressing the sticker with your hands against the wall to ensure that it adheres to the wall.  
That is it my friends!  You know have transformed your room dramatically in a very short time!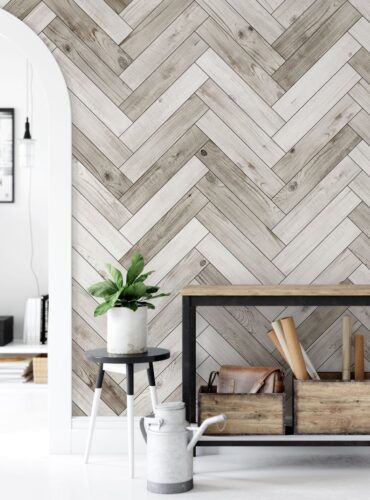 Can you believe that these rooms were all decorated with wallpaper? Print images, aren't what they look liked in the 80's. Check out some of the best faux brick, tile, and wood wallpapers!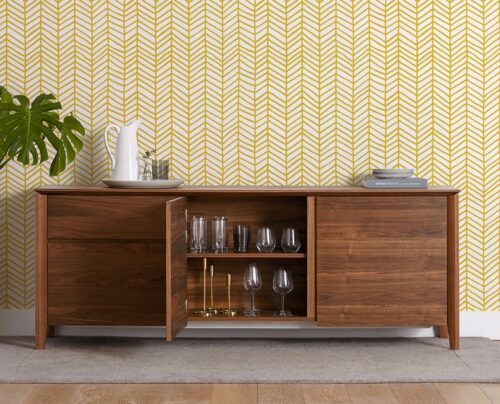 I love how wallpaper can be used to add so much color to a room! This yellow pattern does just that, with a bit of texture to add interest.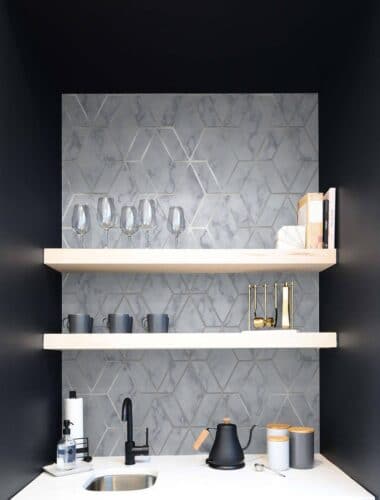 Umm.. Yes please!! I LOVE the metallic hightlights in this modern bathroom wallpaper. This simple addition elevates the entire look of this bathroom. I am getting in line for this one!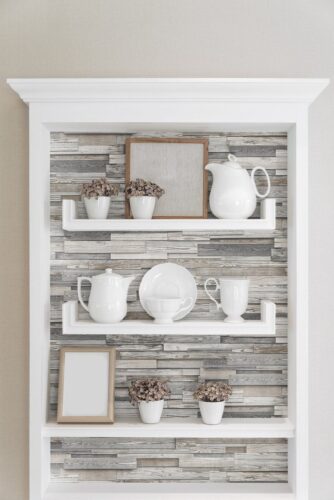 If you haven't seen the slab rock look in every farmhouse kitchen photo on pinterest, then you live under a rock. This look is huge, and VERY expensive. Not to mention, all the dust that would constantly accumulate on the various edges. This faux stone wallpaper gives the perfect look without the pricetag or the hassle of installing. I am certainly adding this to my bookshelf!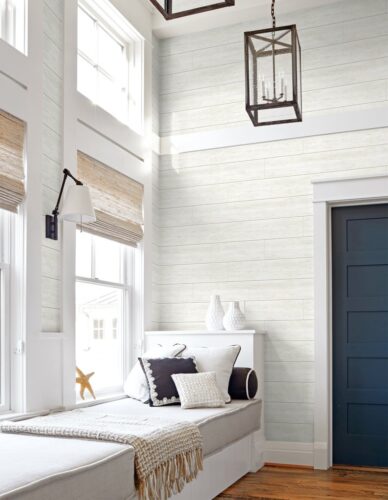 Cottage style homes love to feel cozy, and this faux fabric wallpaper adds warmth without anyone even noticing. It is the background player, and happy to play a supporting role in your home decor without demanding acknowledgement. Oh I just want to grab a book and snuggle on this window seat!
If you want to upgrade your wall with wallpaper, but aren't ready quite yet, save the pin below for future reference to this article!