Dressers are my favorite DIY makeover project.  Dressers are easy to find at thrift stores and garage sells, and often have so much character, that if painted with the right color and technique, they bring on a new life. 
Dressers are also easy to re-paint, so if you want to redecorate your bedroom, repainting your dresser is an easy one-day job.  Check out the following DIY dresser makeovers I found online.  These makeovers are sure to inspire you!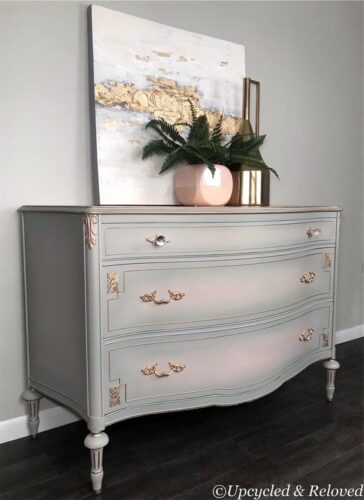 Wood and Paint
These makeover projects inhance the beauty of the wood, but limiting the paint to a portion of the dresser. This is a great idea for home with farmhouse, transitional, or even modern interior decor styles.
#1 Inside Paint
This dresser was painted by using paint tape as a mask for all the wood areas. The edges and sides were all taped to create a protection for paint splatters. Remove the tape about 20 minutes after painting, while the paint is still wet, this prevents your tape from pulling away any dry paint when removed. When you remove your tape, you may need to touch up your edges to make them crisp and clean. Use a small paint brush to accomplish this.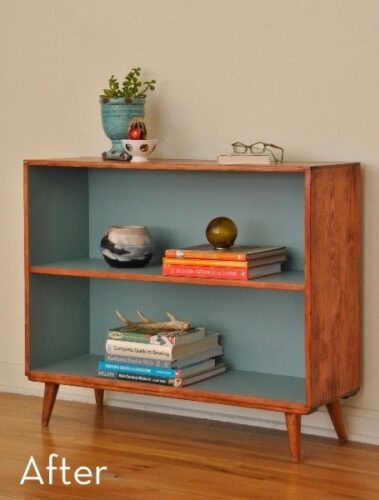 #2 Natural Legs
Painters tape is used to draw the line of where the paint meets the wood. You can use paper, or plastic as a covering for the feet of your dresser, while painting. I love this dresser, and think leaving the wooden legs bare, is a natural beautiful option.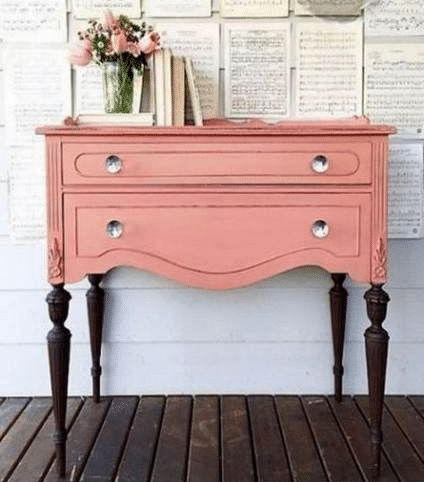 #3 Hand-painted
This beautiful dresser was painted with white paint, over bare wood. Make sure your wood is not stained before trying to achieve this look. Wood needs to be sanded down and can have a water based top coat applied before painting, but no oils, or stains can be on the surface of the wood. These will prevent your white paint to adhere, and will eventually turn the white yellow.
Use a pencil to outline your design first, then use a thin paint brush and a lot of patience to create your custom design.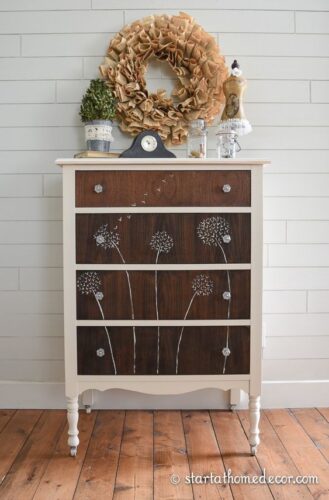 #4 White on Wood
The warmth of wood and the crisp of true white makes this look perfect for any modern home. The technique for any of these dressers is the same: mask wooded areas, and paint the white areas with 3-4 thin coats. Thick coats are not your friend. They lead to chips, tears and a lumpy texture.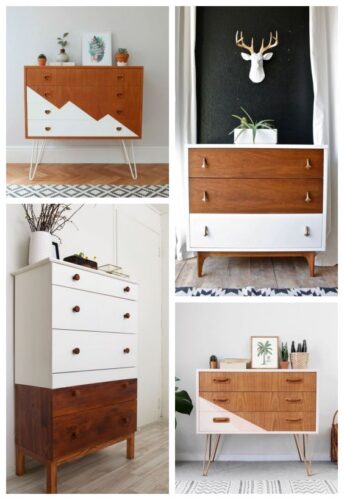 Fully Painted Dressers
#5 Denim Blue
Denim furniture is so popular in the cottage farmhouse community. It brings the iconic color blue, to an all time high. These denim look is used by dry brushing with 3-4 different colors of blue. You can learn how to dry brush HERE. Pick our main color, then go two shades lighter, two shades darker, and one deep blue if you prefer a dark denim hue The center of your drawers is always lighter, and the edges or any detailed woodwork would be a deeper color. I can't wait to repaint my dresser with this look!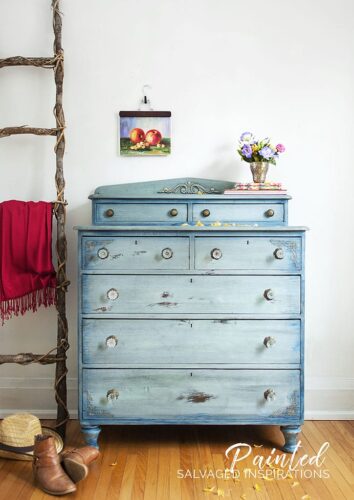 #6 Print on Furniture
This nautical print is a beautiful example on how painting a dresser makeover can include more than one element. The dresser is first painted and then the lettering is added with vinyl stickers, or hand painted with acrylic paints.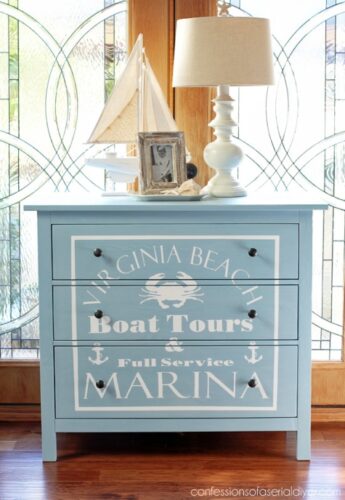 #7 Black is back
Black furniture is the next big thing.  This furniture is beautiful in that it shows off the wood grain, with an ombre look.  This look is achieved by altering the number of layers you apply to certain areas of your dresser.  I love the accent hardware on this dresser, it is simply stunning! Use water-based paint so you can thin the paint as needed for the multi-depth look.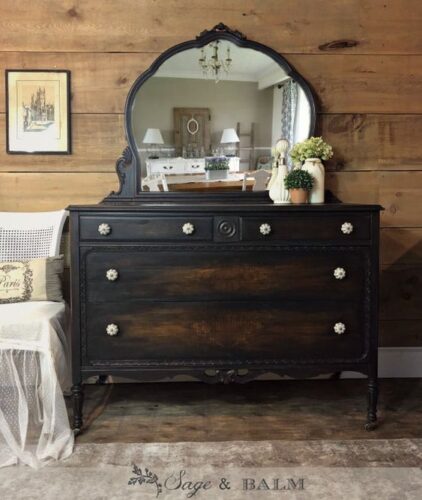 #8 Antique White
Antique white has been big for a decade now and is still the more popular painting technique.  Paint your dresser with water-based paint.  Then use a gel stain to antique it.  You can get more details and options on achieving this look HERE.  The gel adheres to details and edges more than other spaces.  Antique white is unique yes, a calm coloring that matches most home decor styles and color schemes.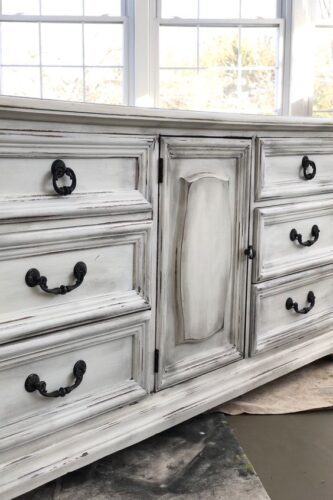 #9 Whitewash
Whitewash is one of my favorite painting techniques!  You can read all about it HERE.  Whitewash is easy to do, and doesn't require any artistic skill to pull off. If you are new to painting furniture and want to try an easy technique try whitewashing your next piece!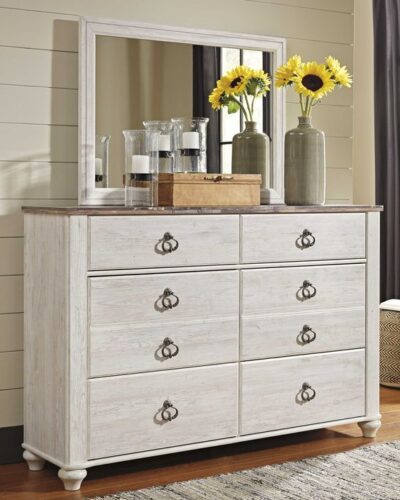 If you enjoyed these dresser makeovers, but aren't ready to start your project today, click on the pin below to save it!