Painted Furniture Ideas
I am the first to admit that winter makes me lazy. But something about summer weather gives me energy, optimism and a go-get-em attitude. Between Halloween and Easter I pretty much stay inside and do as little as possible. When the sunshine finally busts through the grey skies of winter, I am ready to be outside, knock down the to-do list, and make some home improvements. Here's some of the ideas I have on my list this year:
Cute House Numbers
I see all sorts of ideas for super cute house number ideas, and my favorite is using flower pots. Love this idea, (and the awesome stone bench!) Click here for House Numbers tutorial. 
Fence Shelf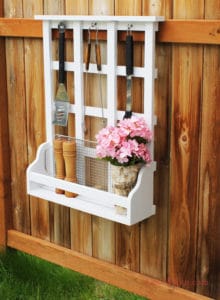 How perfect is this? I love the idea for gardening supplies, kids toys, barbeque accessories, herbs, the possibilities really are endless. It is cute and functional, that's what I call a win-win! Here is the Fence Shelf tutorial. 
Stone Bench
I have dreams of sitting outside, sipping a cold drink, and watching the sunset. Realistically, its usually a bucket and a juice box, but a girl can dream, right? Here is how to make this bench.
Flower Boxes
This has been on my to-do list for years, but this is the year. I can feel it. Who doesn't love flower boxes? They are a beautiful way to add a pop of color and a splash of summer.  Check out how she did it here. 
Ladybugs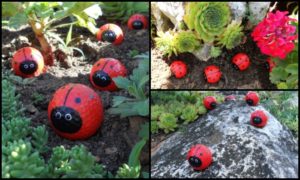 I love these little guys. This is a perfect project for the kids, which is why it made my list this year. It's fun for the kids to have a project they can help with. They are made with golf balls, but I think I'd let the kids make a variety of bugs to make a cute addition to our garden.
Sandbox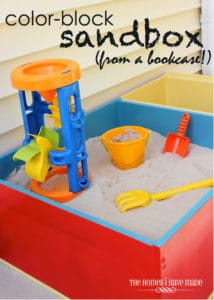 This is one of the best/easiest sandbox plans I've seen. It's an old bookshelf! I love repurposing old furniture, and this is a great way to get a lot of use out of an old piece of furniture. Here is the tutorial.
Tether Ball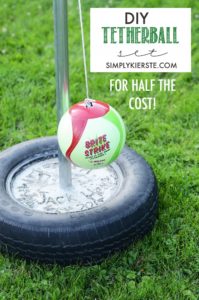 Who remembers tether ball?! I saw this online and knew instantly my kids would love it. It's entertaining, inexpensive, and easy. That's a triple threat that is a must have on my summer list. Here is the tutorial for your tetherball set
Bench Seating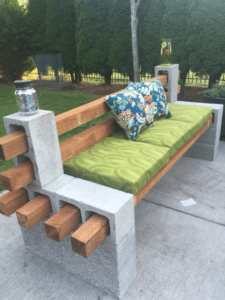 Last but not least, this is what my summer dreams are made of. A luscious bench with a simple outline and plenty of room. Add in a blanket and a s'more and I am literally sitting in the middle of summer euphoria.  I hope these summer projects have inspired you to make your own outdoor haven.  Have fun this summer!