Here are some ideas of ways to make your makeover even more drastic and impressive…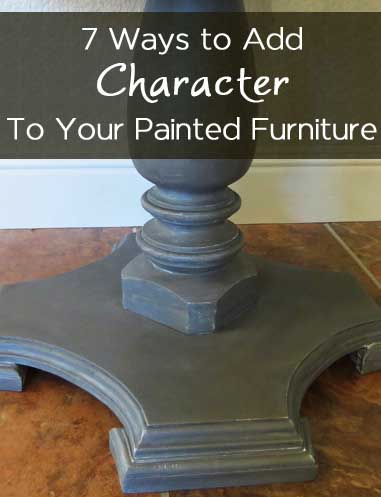 1. Add Textured Wallpaper to the Top, Sides or Drawer Fronts
You can buy textured, paintable wall paper online (I haven't seen it available in any stores) and just cut the piece out to fit your space.  You can mod podge it on.  Then, paint over it.  So, simple, but can make a huge difference in the look of your piece.
2. Add Stenciled Designs
You can also buy stencils at your local craft supply store or buy them online.  Just make sure the stencil is well sealed before you paint over it.
3. Ombre Style
For a detailed tutorial on how to redo your furniture piece ombre style – How To Ombre a Dresser
4. Do An Aged/Antiqued Look
There are a few ways to do an antique finish on furniture.  But, some of the most popular ways to do is to either distress the paint afterward (before your clear coat), use a dark wax afterward or a dark glaze to get an older, aged antique look on your piece.  For more information on doing antique finishes, 3 Ways to Get an Antiqued Look When Painting Furniture
5. Layer Colors or Go 2 – Toned
One of the easiest ways to do this is to just paint the drawer fronts a different color than the rest of the piece.  It's easy, since you don't need to worry about masking off different areas of the piece. You can play with sharply contrasting colors or complimentary colors.  If you change your mind, just repaint just the drawer fronts and try again.
6. Add Interesting Knobs
Hobby Lobby, Michael's and even Lowes and Home Depot are great places to find interesting knobs that will add character to your furniture piece.  Whether you are decorating a girls room or redoing an office.  Choosing new knobs can make all the difference in the final look or a newly painted piece of furniture.
7. Stripes / Chevron Design
Adding stripes to the top of a piece is so easy.  Just lay masking tape out over your newly painted piece.  Then, like I mentioned earlier, you can use a foam roller to go over the top of the strips, until you have an even finish.  As soon as the paint is starting to dry, remove the tape.  I wouldn't wait until the paint is fully hardened to remove the tape, since you may end up peeling off some of the paint from your piece.