#1 Not Planning Enough
The number one mistake is right at the beginning. You need to plan EVERYTHING before you start one thing on your kitchen makeover, to get a cohesive room. If you plan just the layout, but not the colors you might realize later that you want the open shelving to contrast your dark blue wall, or you want to extend the windows to allow more sunlight to lighten your gray room. Pick your layout, complete with electric and HVAC information, the colors, the materials, the size of everything.
Then, plan a budget. Budgets need to be planned based on estimates, not just a google estimate, a real-life, in your neighborhood estimate. Have contractors come bid out projects, or go on a Home Depot, Lowes date and get estimates for a DIY job. You may not have the budget to do the entire job at one time, but at least make a plan, so you know what the eventual goal is.
Finally, plan your timeline, and then add a lot of wiggle room. Start with when you want to end and work backward to when you would need to start your project. I wanted my kitchen complete by May, since that is when my kids get out of school and would be home, so I figured out my timeline and learned I needed to start my project the second week of February. We had a trip planned then, so we moved the trip, and planned to start that week. We completed our kitchen project one week past our estimate, which is pretty good. Give yourself wiggle room between painting walls, and installing cabinets, as well as a few weeks at the end, in case life happens and you get behind.
Planning will save your sanity and the relationships you have during this kitchen makeover.
#2 Not Double-checking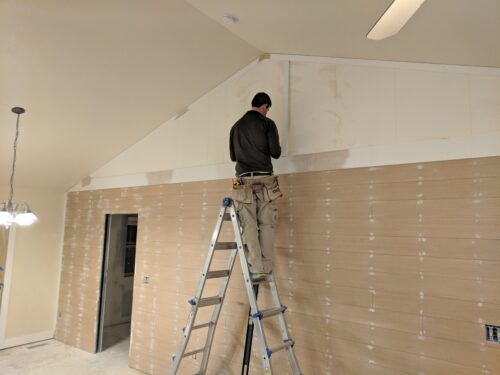 Whether you are doing this project 100% DIY or using a contractor to do everything, it is your job, the homeowner, to double-check everything! Clarity with vendors or contractors on everything you agree on, such as colors, deadlines, sizes of items. If you are doing all the work and ordering cabinets, measure with a second person if you can. Two pairs of eyes are better than one. And NEVER measure late at night. Counting, budgeting, and measuring need your daytime attention, not your "its midnight and I've been working all day on this project and I have to check now that my fridge will fit" attention.
I had blueprints for my kitchen with all the measurements in detail, but when it was time for me to install the cabinets, I took a measuring stick and drew out each line on the wall to make sure it fit. Guess what, one of them was off. I was able to fix the situation before I had put one cabinet up, which saved me time and headache.
When shipments were sent I tracked them and called the freight company myself to double-check when it would be delivered. I got my cabinets delivered 2 days early by doing this.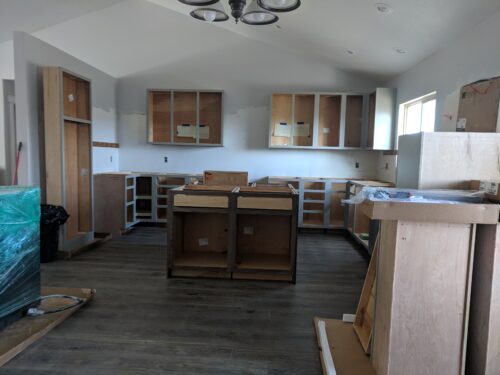 Don't depend on your contractor or anyone else to care about this project more than you do. Double-check everything.
#3 Not thinking Outside the Box
Just because your fridge is on the south wall, doesn't mean it needs to stay there. If you have never had an island in your kitchen, you might not know what you are missing. Think outside of your current layout and think of the possibilities. Move things around you'd like or omit things you don't use.
I had a corner pantry for 16 years. When I told my friends I was getting rid of it to use the space more efficiently they thought I was crazy. But guess what…2 years later and I haven't missed that pantry once.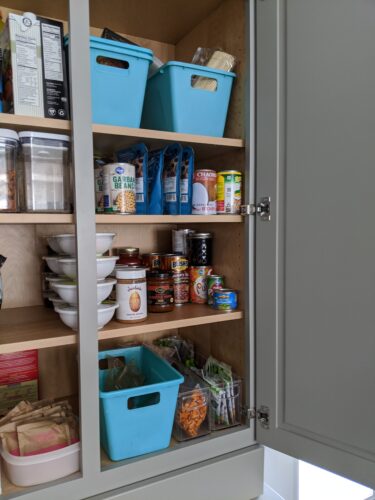 #4 Making Changes after Work Begins
Kitchens are like a deck of dominos, when you change the depth of your cabinets, it affects your countertop depth, and if the fridge door will hit the said cabinet when it opens, and etc. This is why we plan ahead early. Once you start, don't make changes, without realizing the domino effect if could have on your entire project.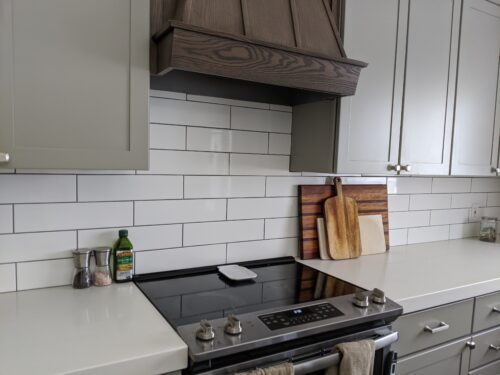 #5 Not Make Good Use of space
Where do you want space in your kitchen? I wanted counterspace, so much that I could go to COSTCO 5 times and have room for more groceries. So I moved my microwave into my island cabinet, installed deeper bottom cabinets, and ordered a more narrow fridge. I now have the space I wanted. Maybe you want lots of cabinet space. I did! My corners are all "magic corners" where there is a deeper hidden shelf in each cabinet, rather than lazy susans. Lazy susans are not space savers folks.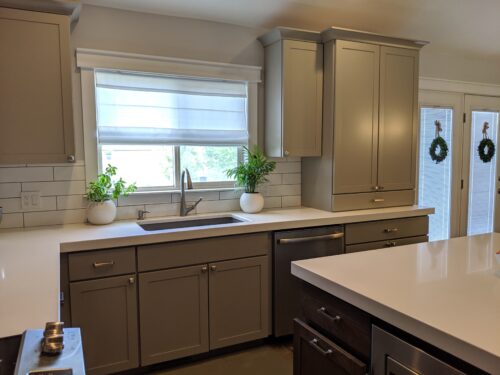 Walk around your room and imagine what it will be like to walk to the fridge, grab some carrots, chop them up, discard the tops and saute them. Is the workflow from fridge to the trash, to the oven working? Making good use of space doesn't mean cramming in all you can, make sure you have a workable space as well.
#6 Forgetting about Storage
Storage can often be overlooked by kitchen makeovers. We see the pretty picture on Pinterest and forget that we need a cupboard wide enough for our air fryer. We forget that our turkey platter needs a deep shelf to live on, and that we all need a nice deep "junk drawer" in our kitchen- come on no one is perfect. Oh, and did I mention cleaning supplies? If you have a hard floor you need a broom to go somewhere.
Plan ahead by taking inventory to everything you have and how much space it takes up. You can be general such as "baking supplies: 2 shelves, cleaning supplies: ½ of one shelf. Then make sure in your new kitchen you will have adequate storage to fit your needs. I love my cleaning storage closet and wouldn't have realized I needed it if it wasn't for that broom who needed a home.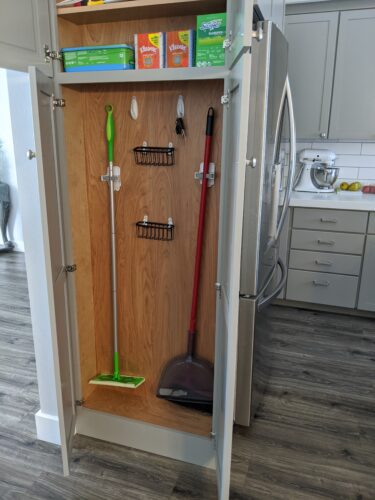 #7 Make it for You
That broom closet I just showed you, was for me. My friends asked why would I possibly need a closet just for my broom and keys. Because I wanted one. I like a clean kitchen, and walking down the hall for a broom each day didn't sound like fun, so I have a broom closet.
You need to make your kitchen for you.
Do you love the pretty open shelves on Piterest, but know you aren't an organized person, or own any matching white dishes?
Do you want to get rid of you pantry, but know you are a bulk shopper and need space for COSTCO size items?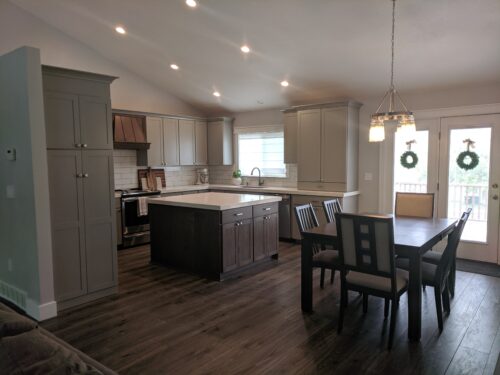 Are high stools around a table your dream, yet you have two kids under 5 years old?
When you see a kitchen aspect you love, think if it will fit for you and your family. Will it make sense in YOUR kitchen? A kitchen makeover is a great time to customize this room to your needs, so don't just copy the lastest trends, plan your unique kitchen for you.
I hope this helps you prepare for your kitchen makeover, and may the odds of good luck, be ever in your favor!