Summertime is about running through the sprinklers, nursing sunburns, and making a lemonade stand.
This is the stuff that childhood is made of.
I loved having a lemonade stand when I was a child, so with kids of my own, I am more than happy to whip up a batch of Country Time and let them enjoy running their very first business.
When I was 10 years old and running my own lemonade stand, it was a card table on my driveway. Today, lemonade stands are so much more than that! You can make a lemonade stand out of just about anything and they are so adorable I might just take over the business.
Crates! I love crates in all forms, but this one just might be my favorite. The best part is you can disassemble it and store it for the winter. It naturally creates two small storage areas for cups, money, or other lemonade stand accessories.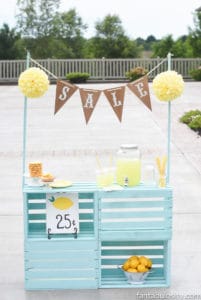 If you are looking for a more permanent option, this is a great lemonade stand that you can use for years.  I love the rustic and simple look of this stand, it could be very versatile for lots of different uses throughout the year.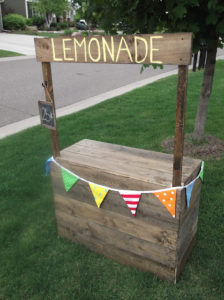 Got an old nightstand? Turn it into a lemonade stand! What a great way to upcycle old furniture that would probably end up in the garage sale. I love how she added chalkboard paint to the top to make a little menu, how cute is that?!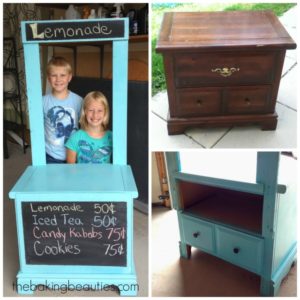 This is another brilliant upcycle from a toy organizer to a shop stand! I can just imagine those bins filled with candy, apples, toys, or other goodies to sell. Great way to keep everything organized.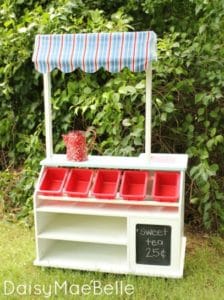 Ana White has a beautiful lemonade stand that doubles as a play stand. You can transform this stand from a lemonade station in the summer to a puppet show during the winter, or a market play stand all year long. The options are literally limitless and gives kids a great opportunity to use their imagination in the world of make believe.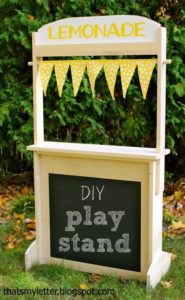 If you don't have room to store a large lemonade stand all year long, consider this collapsible option This is a basic table that is prettied up a bit to make it cute and convenient. The sign and poles easily detach for easy storage, and you can use it for a lemonade stand, bake sale, ice cream, anything!