Old, beat up shelves are easy to come by. You can find them easily at thrift stores almost every day and they are usually super cheap too. So, before you pass up another cheap shelf, here are a few ideas of things you can do to a shelf to give it such a great makeover that it will actually becomes an accent piece in your home: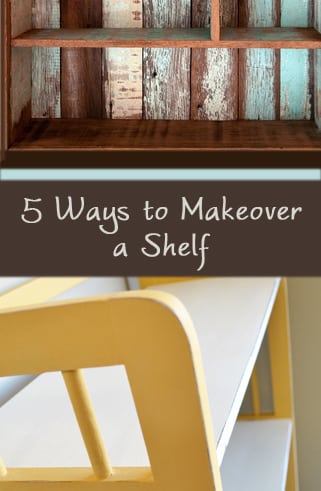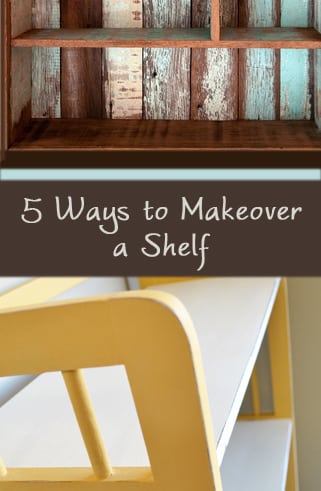 1. Paint It – Any old beat up wood shelf, even if it's laminate would benefit from a fresh coat of paint.  Paint will make a huge difference and can help brighten up a room.  But, that's just to start.  There are lots of other things you can do to a shelf to help make it an eye-catching piece. To paint a wood shelf. Start by sanding enough to get the surface smooth and scuffed enough for primer to adhere. Then, spray or brush on a coat of primer. Then, paint on 2 coats of paint. You may or may not need a clear coat, depending on what type of paint you use.
2. Apply Wallpaper to the Back of It – Using modpodge or glue, you can apply wallpaper, fabric or even tiles to the back of the shelf.  That will really make the shelf pop and stand out as a great accent piece. This is a great way to take a mundane, boring looking shelf and make it decorative and stylish.
3. Put Legs on It – If you have a book shelf that stands on the floor, try adding legs to it. This is a great way to upcycle a bookshelf. Most hardware stores carry wood legs that you can attach to the bottom of furniture pieces.  They usually run about $5 per leg. This makes even the most simple, cheap shelf look more elegant and decorative.  If you do plan on attaching feet or legs to the piece, make sure to do it before you paint it, to give it a uniform look.
4. Stencil The Top or Sides – After you have painted your furniture piece, you can create a pattern with a stencil or even use masking tape to do some kind of pattern (ex: chevron pattern) and then paint over the tape or stencil.  This is a quick, easy way to dress up a piece of furniture. You can buy stencils online or in craft stores. If you don't want the extra expense. Create your own design or stripes with masking tape.
5. Add Trim to It – You can also buy trim at the hardware and nail it or glue it to the front of the shelf to give it a more custom look.  This is a great thing to do with boxy, boring shelves that need an extra element of detail to help them look more traditional and less modern.