There are SO many ideas online right now about ways to use pallets for home decor, to build patio furniture, benches, tables and more.  But, where can you get free pallets?  I certainly don't come across them very often in my daily routine.  Learn how and where to find free pallets for your next project.
1. Feed & Pet Supply Stores– Feed and pet supply stores usually get their grains and pet food in on pallets and usually toss them out.   Check with your local store to see if you can pick some up.
2. Newspaper Companies – Newspaper companies receive shipments on pallets and often have lots of pallet discards.  If you are close to a newspaper company, give them a call.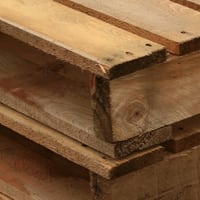 3. Hardware Stores & Nurseries – Hardware stores and nurseries often receive shipments in pallets.  Check with your local store to see if they give them away.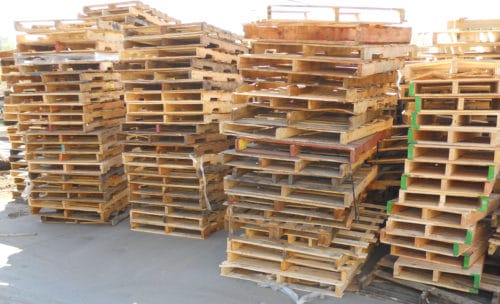 4. Check Craigslist– I see pallets listed in the free section of Craigslist all the time.  They might get picked up fast, so it might require checking regularly and jumping on a new listing right away.
5. Furniture Stores – Furniture is often shipped on pallets.  So, check with your local furniture store to see  what they do with their pallet discards
Basically, any business that receives shipments on pallets probably discards the unused pallets.  However, if a company has a high volume of pallets to discard, they may use a pallet recycling company which are becoming used more and more.  You may have better luck with a company that occasionally receives shipments on pallets, but not enough to bother using a recycling company to discard them.  Even corporate offices sometimes receive pallet shipments.
You may see pallets laying around a construction site.  Some construction companies are paid a rebate for returning pallets.  So, if you see some unused pallets laying around on a construction site, it doesn't mean they are free for the taking.  Make sure you ask before taking pallets from any location.
Learn more before starting your pallet projects: Red Flags to Watch Out For When Choosing a Pallet For Craft Projects  and Ways to Disassemble a Pallet