Your front door is the first thing people see when they drive by or walk into your home. The front door is usually one of the first places that shows age because it is exposed to the elements day one. Even if the inside of your home is beautiful, if the front door is neglected, it can make your entire home look dated and worn.
The front door is especially important if you're thinking about selling your home anytime soon. Some buyers won't even consider the home if the front door area is unappealing. Give your home some TLC by updating your curb appeal with some of these quick and easy front door makeovers.
1-Paint!
This is probably the easiest and (almost) cheapest option to completely change the look and feel of your home. A painted door is like a facelift for your home, it can take 10-12 years off your look instantly. Opt for a bright color to really make things pop, or stick with a subdued neutral for a more elegant entrance. Whatever color you choose, Sherwin Williams provides a great step by step tutorial for painting your front door on your own and having it look like a pro.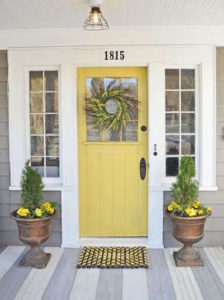 2-Porch Style
Your porch is just as important as your front door. A beautiful door with a dilapidated porch doesn't work well together. Spruce up the front porch too by adding a beautiful stamp design. It gives the illusion of a beautiful rug or sleek tile without the added cost.

3-Hardware
Don't forget about the hardware. The old shiny brass style is out, so update it with an oil rubbed bronze or black alternative.
You can buy new hardware and easily install it yourself, or you can save a little money and actually paint your old hardware. Be sure to use paint specifically designed for metal and follow all of the manufacturer's instructions.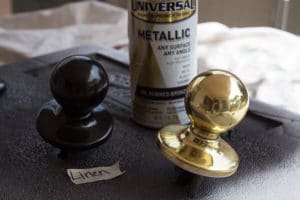 4-Add a kick plate
The kick plate is that shiny piece at the bottom of the door. It is designed to prevent the door from getting too many dings and scratches from opening and closing over and over as people come in and out. It adds a finished look to the door and really gives a nice touch.
This is the cheapest upgrade option but it still makes a big difference. Simply pick up a kick plate at your local hardware store, screw it on and you're done.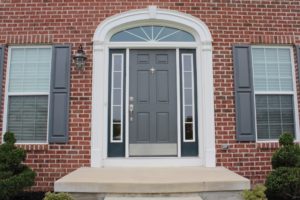 5-Add ornate iron works
If you're really looking to update your front door, you can add ornate detailing to your existing door, or upgrade to a door with wrought iron details built in. These beautiful doors make a huge difference to your existing curb appeal. The iron details bring elegance and substance to any entry.