Painted Furniture Ideas
Here are 5 of our latest dresser redos.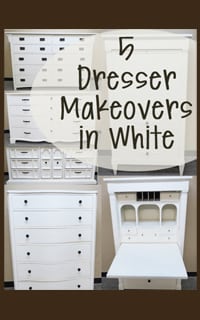 We started by filling all holes and fixing any imperfections with wood filler.  Then, resized all the drawer holes to fit standard sized pulls.  How to Resize Drawer Pull Holes to Fit Standard Pulls See my tutorial on how to do this.  Sanding each dresser, not down past the stain, but just enough to smooth out the rough spots and give the primer something to adhere to.  Then, We sprayed the primer on with a paint sprayer.  I always use Rustoleum's Cover Stain Primer.  Then, we sanded any drips, etc.  and got the primer layer smooth and thoroughly cleaned.  The next step was 2 coats of paint, which were applied with a paint sprayer.
Like I have mentioned in previous posts, for latex paint, my favorite paint is Pittsburgh's Manor Hall, China White in a pearl (satin finish).  Then, we attached all of the hardware and they're done!  Enjoy the before and after pictures!