Bathrooms are the smallest yet most used area in the home. Of all the places for a DIY project, the bathroom makeover should be #1 on our list. We all spend plenty of time in there; and if you have children, sometimes it's the only place to hide for a few minutes of alone time. Right, Moms?
Sometimes you're in there just long enough to notice the peeling paint, cracked tile, shabby curtain, and then you wash your hands and it's forgotten again.
Isn't it time to give the bathroom the attention it deserves?
A DIY bathroom makeover doesn't have to take a lot of time or a giant budget. We can show you how to create a beautiful bathroom makeover. In no time at all you'll be so excited when your guests ask to use the restroom.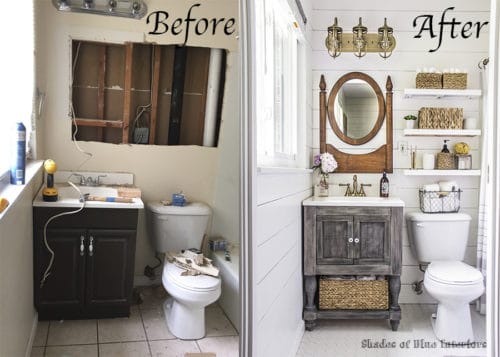 Working with a Small Bathroom
Everyone has at least one tiny bathroom in the house. It might be a half-bath on the main floor, or the kids' bathroom that is always a disaster. Luckily, there are tons of ways to add visual size to any space without knocking down walls to add square footage. Here's a few ideas to get you started:
1. Repaint using light color palettes
Dark colors tend to make a space look smaller. For the best small DIY bathroom design go as light as possible. Hence the reason why we all love a white bathroom. Light colors also give a clean vibe, any who doesn't want a sparkly clean bathroom?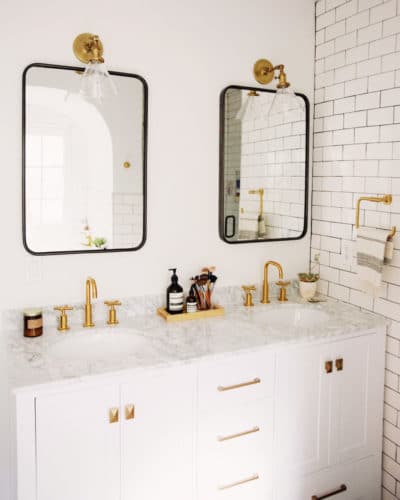 Take colors seriously; and use light tones as much as possible.
Repainting the bathroom is an easy one day project. You can repaint just one wall, to create an accent wall, or do the entire room. Make sure to use satin paint or semi-gloss paint as it does better in humid rooms.
2. Purchase new accessories
If you are on a budget, purchasing a new shower curtain, new bath mats and new towels will be next in line. This is by far the easiest and quickest way to makeover a bathroom.
While on Amazon.com remember that a bathroom doesn't need a full palette. Two or three colors is plenty. Your palette should connect your bathroom as a whole so that your paint color will unite walls, fittings, floors, and tiles. Don't apply strong contrasts which can break up the space and make the room look smaller.
If you'd like your bathroom to appear larger, make sure your shower curtain is light and solid. Busy curtains, or murals, though beautiful will make your bathroom feel smaller.
3. Accent Walls
If you're working in a small room, you need to work with every aspect of the space. In a bathroom, use the height you have to make it look larger. Consider wallpapers, stripes, tall fixtures, or an accent wall to help out.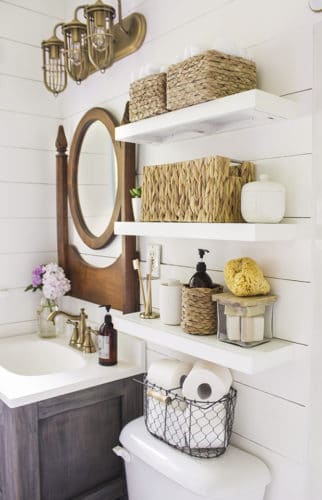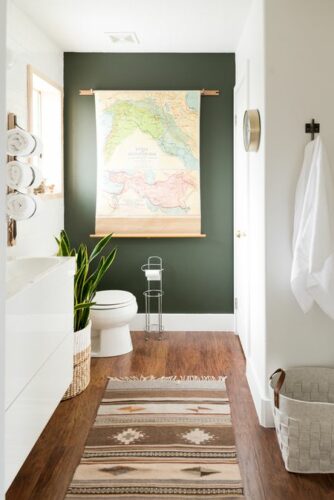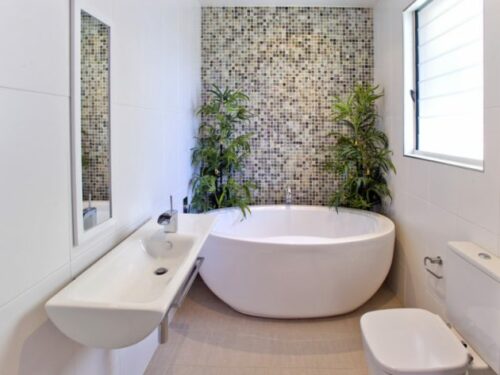 4. Emphasize the Mirror
Make good use of the basic bathroom elements that are already there. The mirror is a magical tool and a major focal point in any bathroom, so use it wisely.
Find a mirror that matches the style of your room. It can be elegant, rustic, modern, or vintage, but make it stand out. You can use additional mirrors against the window in order to reflect light; or opposite each other to obtain the illusion of space. The less natural light you have, the bigger the mirror needs to be.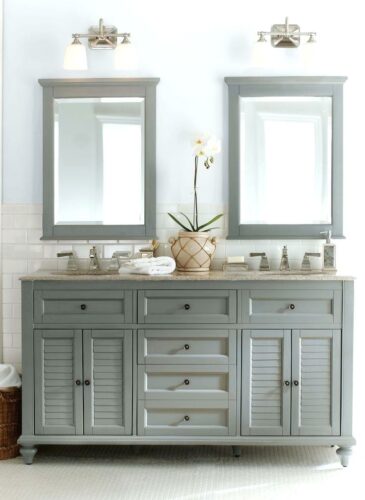 5. Let in the Light
A dark bathroom is cramped and uninviting. Rather than covering up the window, use a frosting spray or blurred screen to create privacy without sacrificing natural light.
The darker a small bathroom is the more cramped and uninviting it will feel. Any light bulbs in bathrooms should be soft light bulbs, without the strong yellow beams created by other bulbs.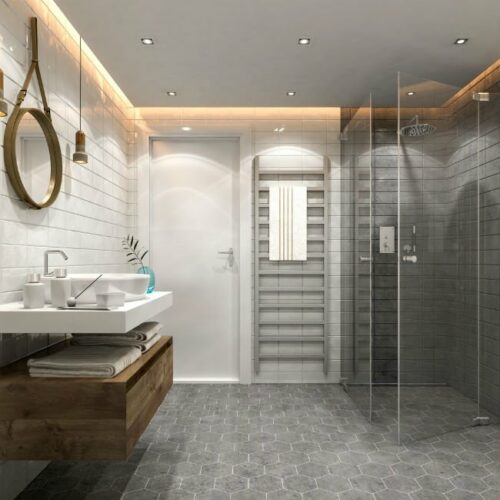 6. Show off the Interior of the Shower
If you have a tiny bathroom with a shower or tub, use clear fabrics or soft curtains. If you create an artificial barrier between their shower/bathtub and the rest of the bathroom it makes the space look even smaller.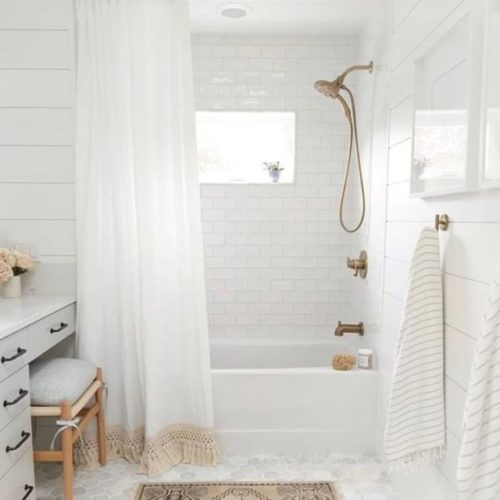 7. Updating the Outdated
Honestly, sometimes the bathroom just looks old. It might have been great several years ago. Now it's old and dingy and about as un-beautiful as you can get. Good news – this is easy to fix! A few simple touches can take the outdated back into reality.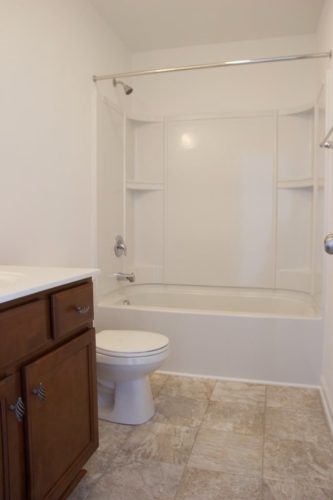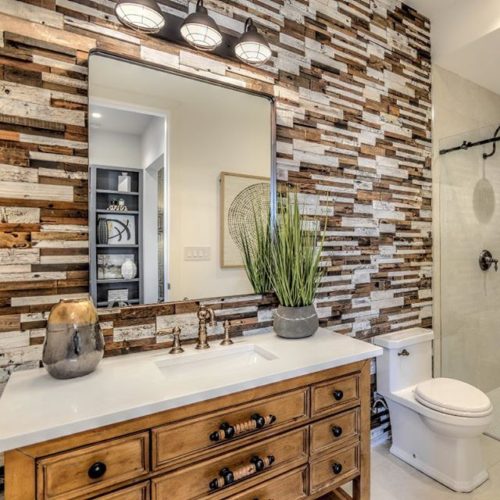 8. Quick Fix Ideas
Sometimes a few small changes can make a huge difference. These are easy things you can do in a couple of hours before company arrives to give your bathroom a quick boost.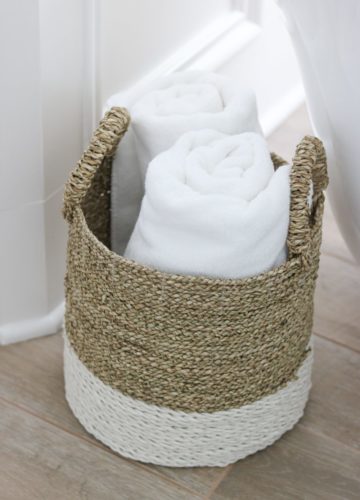 Get rid of clutter. Bathrooms are intolerant to clutter. You don't have any room for anything necessary so get it out of there. It takes only a few 'thrown' items to make them look cramped.
Keep the countertops clean. For any small rooms, emptiness is essential.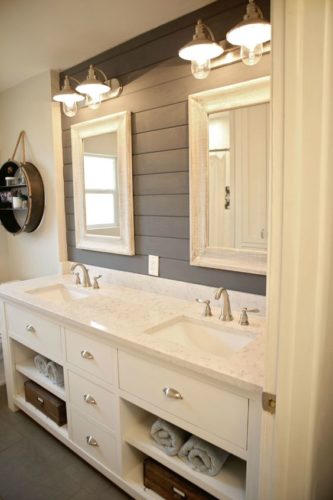 Get creative. Instead of using classic caboodles for toiletries and cosmetics, store items vertically Floating shelves are affordable and modern and an easy way to create a beautiful bathroom design with plenty of extra storage space.
Use Photos – Keep your family memories out of the bathroom, but a few interesting photos can update a bathroom instantly. Choose an antique or farmhouse frame with beautiful prints of places you've visited, hobbies, interests, world maps, animals, or any other type of photo you enjoy looking at for approximately 5-7 minutes 3 or 4 times a day.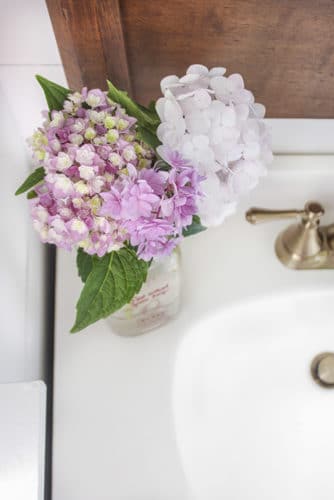 Add something green. A small succulent on the counter, a beautiful lily by the tub. Add some type of greenery to the bathroom to give it light and life and a breath of fresh air.
Go beautiful. Splurge for a pretty soap container and a beautiful jar for the shelf. Yes, they are a little more expensive, but you only have to buy them once and you can refill them with soap over and over again. These small beautiful details can make a huge difference.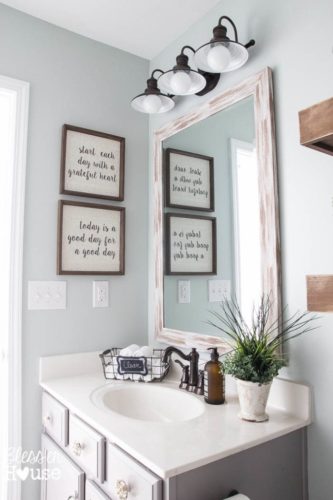 Whether you have a tiny space, lack of storage, outdated furnishings, drab colors or dingy looks, these simple tricks help solve all the most common bathroom problems. Give your space a makeover and fall in love with the look.
Love these ideas? Pin them for later!