Learning to paint your own furniture is a great creative outlet, and it saves you a ton of money. For beginners, it can be overwhelming. With paint, there is nothing to worry about. You an always sand it down and start again and mistakes are easy to fix or hide. Before you begin make sure you have cleaned your project, and sanded it down. For more details on how to do that read this: 5 Common Mistakes Made When Painting Furniture
There are basically 4 different ways to paint furniture. I have experience painting with all 4 types. There are pros and cons to each technique, so consider these points before you decide what will work best for you.
1. Brush
This is one of the most common ways to paint furniture and one of the cheapest ways. One of the main advantages is that it's low cost and easy. There is the savings of not having to buy spray paint or equipment for spraying. If you are considering this option, just make sure you purchase a quality brush to minimize the appearance of brush strokes on your furniture piece. With skill, it's possible to paint a piece of furniture with a brush and show no brush marks, but it's not easy. Most people will leave brush strokes in the paint. Expense is also saved with no wasted paint as there is with all types of spraying. The downside to painting with a brush is that it's time-consuming and doesn't produce the nice even finish that spraying paint produces. But, it's cheap and easy to get started.
If a brush is your weapon of choice, check out: 7 Tricks to Avoid Brush Strokes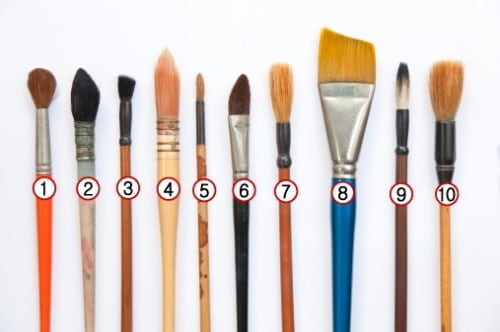 2. Roller
Using is roller really only works over the flat surfaces of the furniture piece. Rolling won't work with any beveled edges. If it is a modern-style piece and all of the surfaces are flat, then a roller could work. But, I'm not a fan of the surface pattern that a roller makes. Although it is easy to do and with a good roller, might look fine. Rolling is easy, and cheap but does waste some paint, more than using a brush would. For 3 Tricks to Avoiding Roller Marks check out this article.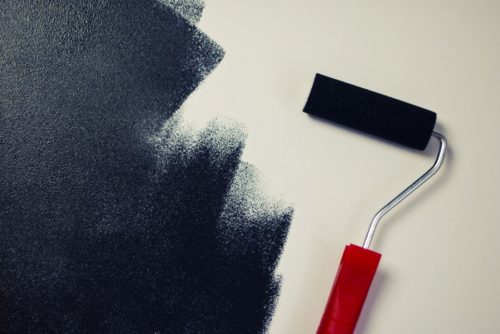 3. Spray Paint
Spray paint may be the best option for your painting project depending on the size of your project.The advantage of spraying paint from an aerosol can is that it's fast and with even strokes, can produce a very smooth, even finish. One downside to using spray paint is that sometimes the surface can have a blotchy finish, especially with large surface areas.
Compared to using a paint sprayer, spray paint has a relatively small spray pattern, really only 3-4 inches, so it takes longer to spray a large piece of furniture, like a kitchen table, than it would with a pro paint sprayer. Also, spray paint can get expensive. Spray cans don't contain much paint and some of it ends up wasted, off of the piece. I've used upwards of 12 cans of spray paint for large pieces of furniture. That can mean $50-60 in paint costs, which is expensive considering using a brush would cost probably $10 in paint to paint the same piece of furniture.
Spray paint is perfect for 2 projects, small projects and those that require an underneath coat like a primer coat. I always use spray paint for primer, it goes on fast, dries fast, and is much cheaper than purchasing primer in a pot. I also enjoy using spray paint for small projects, like a bar stool, small chairs, shelves, frames, etc.
Check out 5 MISTAKES MADE WHEN SPRAY PAINTING for more details about this technique.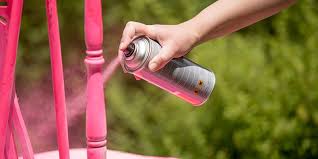 4. Paint Sprayer
This is my preferred way to paint furniture. The disadvantages to using a paint sprayer is first, that a paint sprayer can be costly and it can be difficult to choose which one will best suit your needs. Also, there is a bit of a learning curve to using a paint sprayer for the first time. This can be a real deterrent for most people. If you are intimidated by using a paint sprayer, then maybe start with spray paint and go from there. The advantages to using a paint sprayer though are that you can get a smooth, factory-looking finish VERY quickly. I mean, like 10 minutes. So, once you do get past the cost and the learning curve. In my opinion, it's definitely worth it. But, it's not for everyone. I have met many people who enjoy painting furniture with a good quality brush.