Sometimes painting a piece of furniture can be daunting because of the time it takes to set up, clean up, make a mess, etc. It's kind of a daunting project. But, there are a few things you can do to make the process go faster.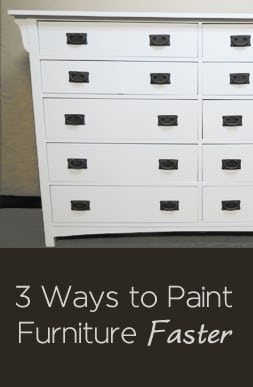 1.  Use Spray Paint & Spray Primer – Honestly, I don't know how people have the patience to use a paint brush anymore.  I used to use a brush, back in the good old days, but with handheld paint sprayers available and many types of spray paint to choose from, spraying paint is a much faster alternative.  Although, if a paint sprayer intimidates you and you aren't finding the color you want in an aerosol can, brushing the paint on is your next best option.

2.  Skip Sanding – You can skip the sanding step if you thoroughly clean the piece with a degreaser like TSP or Windex.  I wouldn't skip this step if you are planning on selling the piece, but if it's just for you and you don't mind the possibility of having to touch it up later on down the road, go ahead and skip this step.
3. Skip a Finish Coat – Unless you are painting a kitchen table, a finish coat isn't totally necessary.  Also, it's something you can always add later if you want.  If you use a quality paint, 2 coats of paint should be enough to provide durability at least for the time being…
If you have a piece of furniture that you are putting off painting because you just don't have the time and it's a piece that you aren't going to be meticulous about, it's ok to cut a few corners just to get the job done.  Once the paint and primer is fully cured, it will still be durable and resist nicks and scratches, whether or not you sand or do a finish coat.