I'm in the process of creating a custom piece of word art for my home on a wood board.  It's been a tricky process and I had to filter through quite a few different tutorials to find one that would work for me.  Here are some of my favorite techniques and tutorials.

Print on Contact Paper – This technique involves having your design or text printed on contact paper and then carefully cutting out each letter with detail scissors or an exacto knife. Once the letters are placed over the dried, painted surface, then you can spray paint your lettering. Then, you can distress the finished piece.  You can do the exact opposite, using the negative space stencil (not the letters) and spray paint the positive space for the opposite effect.  This method take time, but is durable, and has a great rustic look.  Here are a few examples of this technique.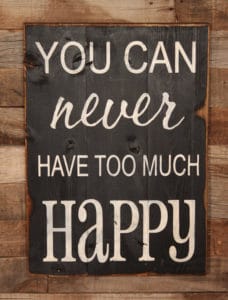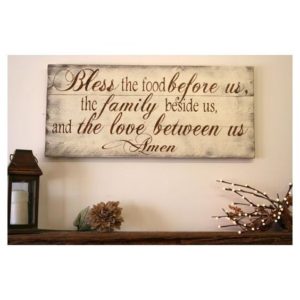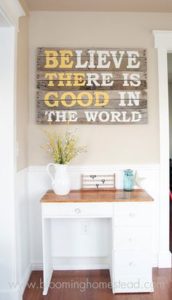 Vinyl Lettering – Looking on Amazon I found lots of different styles and sizes of pre-cut vinyl lettering.  If you have a cricut or silhouette machine you can buy rolls of vinyl at craft stores (about $10 for 12 feet) and create custom lettering.   Vinyl gives a very straight edge, which will give it a professional clean look to it.  Vinyl also comes in multiple colors, giving you more choices to make it match your existing decor.  Use only smooth wood to ensure the vinyl adheres. When doing this technique I like to add the vinyl while my paint is barely wet or tacky, so the vinyl can soak into the paint a bit and adhere a little extra.
Here are some examples of this technique: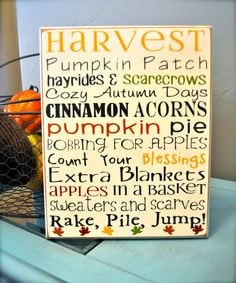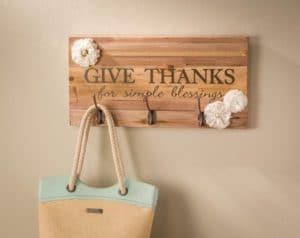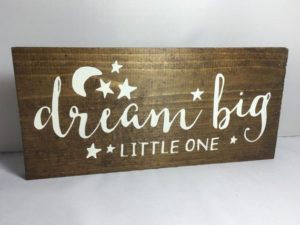 Tracing and/or Carbon Paper –Lay carbon paper onto your wood face down.  Then carefully go over the top of the paper with a pencil and have carbon paper (from an office supply store or craft store) underneath to make a light impression of the whole letter. Once you have completed this step, paint "coloring in" each letter. Don't worry when you're finished if the whole thing looks tacky with uneven brush marks. Distressing will even all that out. Let the paint fully dry and then go over the whole thing lightly with your hand sander (320 grit). All of the imperfections will fade and it will look great! This is gives a very rustic, distressed look.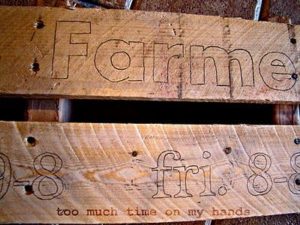 Check out these examples: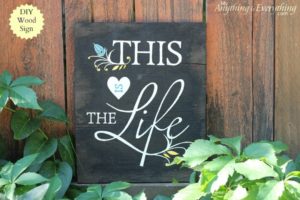 http://www.myanythingandeverything.com/diy-wood-sign/
I love this antique Dairy sign from Miss Mustard Seed: