Painted Furniture Ideas
A cool drink, a soft breeze, good friends, and a sunset. These are the makings of a perfect summer night.
I love spending warm nights on our deck just visiting with family or playing games with friends. But after a while, our outdoor furniture was in desperate need of an update. It was still comfortable and cozy, but definitely needed a facelift. If you're looking at transforming your patio furniture, here's a few things you need to know.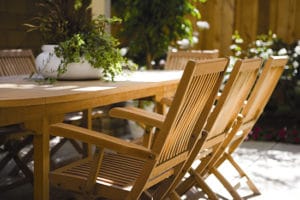 Start Clean
Whether your furniture is wrought iron, plastic, or wood, it should be completely clean before you begin. This may take some elbow grease if the furniture has been sitting outside for several months (or years).
To clean patio furniture, you can use steel wool, a wire brush, sandpaper, scrappers, or even a chemical stripper if necessary. Getting the furniture clean is essential, because paint will not adhere to dirt. After it's clean, give it a good rinse and allow it to dry completely.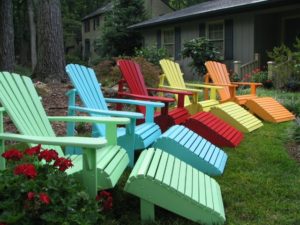 Prime
Some products don't require a primer, but it certainly won't hurt. I always recommend priming because although it takes extra time, it will always pay off with a product that lasts longer and looks better. Use a primer that is specifically designed for the material you're working with and is safe for outdoor use.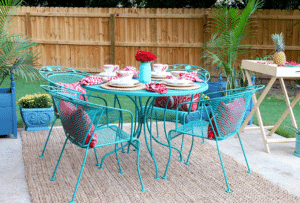 Paint
I always prefer spray paint for outdoor furniture. You can use virtually any type of paint that is designed for the surface (metal, wood, plastic) that you're working with. I like working with spray paint because I think spray paint leaves a brush-free finish that looks more professional, especially if you're working with intricate designs, wicker, or furniture with lots of curves and crevices.  It also dries faster and is quicker cleanup.
Look for paint that has rust protection and UV protection built in, especially if you're painting metal furniture.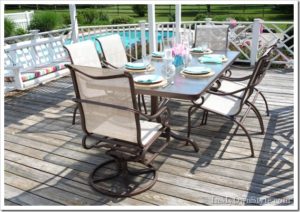 It's also important to pick the perfect time to paint. The heat of the summer is often too hot to paint, but the chilly spring is too early. If you are getting a sunburn, it's not a good day to paint because the paint will dry too fast. Generally between 50-60 degrees is perfect painting weather. So get an early start to the day, or paint during sunset.
Allow your patio furniture to dry for at least 24 hours. The last thing you want is your cute teal chair to leave teal paint residue on your white shorts. Once your furniture is completely dry, it's time to plan your next BBQ!