Give your walls some personality with stripes! Stripes are a great option for those of us that might be a little nervous about patterns on walls. They are easy to paint and completely non-intimidating.
Horizontal stripes make a room appear more spacious; vertical stripes make the ceiling appear higher.  Whichever direction you choose, painting stripes on your wall will make a beautiful room. 
The first thing you need to do is pick your paint colors. One will be your basecoat, and the other will be the stripe color. You can do a tone-on-tone (same color, different sheens), you can do a monochromatic effect (same color, different shades), or you can go bold with two completely different colors.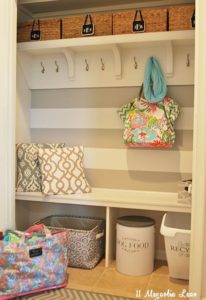 STEP 1:  Paint your base coat and allow this to dry completely. Painting stripes is not a one-day project, unless your base coat is already done. It is best to use the lighter color for the base coat and allow to dry overnight.
STEP 2:  Now you're ready to measure your walls for the stripes. Start in the corner and divide the wall into even stripes. You can choose any size for your stripes, but somewhere between 4 and 12 inches seems to look best.
Anything bigger looks heavy and anything smaller looks narrow and busy. An odd number of stripes ensures that the stripes at either corner are the same color, and looks more cohesive.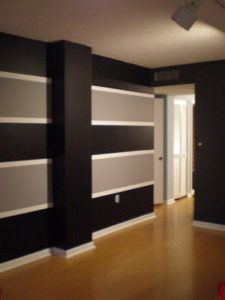 Mark the wall with lines using a tape measure, then use a level or straight edge to create the outline for the stripes and tape off with painter's tape. If you have Laser level
, this is a great application for this handy tool.  I love my laser level it saves me so much time and gives you perfectly straight line.
If the measurements don't work out perfectly, adjust the width of the stripes on the last wall. A ¼ to ½- inch difference won't be visible to the eye.
If you'd like to take extra caution, apply a thin line of acrylic gel medium along the edges of the tape to prevent the stripe color from bleeding. If you skip this step, you may have some detail work later on.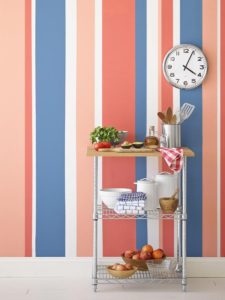 STEP 3: Use a roller or wide brush when painting stripes.  Carefully remove the tape when finished. Don't wait until the paint is dry to remove the tape, it is much easier to fix imperfections while it is still wet.