If you spend your weekends pouring over garage sales finding the perfect DIY furniture makeover, you might want to hold onto your cash until you know what you're buying.
Before taking on your next pet project, it's important to decide whether that piece of wood furniture it worth refurbishing, or if it is destined for the dump. Here are some things to consider before you decide to makeover a piece of furniture.
Has it already been painted?
There's usually a reason why a piece of furniture is painted. That coat of paint may be hiding burns, missing veneer and water stains. An old dirty varnish is a much better sign than old and chipping paint.
How is the construction?
Look at the hinges, corners, hardware, and legs of the furniture. Put your hands on the piece and rock it back and forth, if it sways – back away. You don't want the hassle of taking it apart to re-glue or reassemble. Particleboard, laminate surfaces, hairline cracks and sticky drawers are just a few of the issues to look for when deciding whether the piece has enough value to be refinished.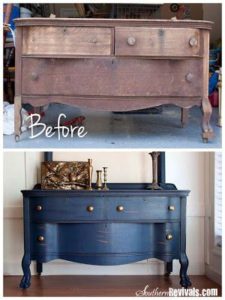 Consider the Work Involved
A piece  which has deeply carved or applied filigree,  can be hard to work with those details while refinishing. A chair with ornate sides, slats, or ornaments can be tedious to work with, especially if you don't have a spray gun. This my make this furniture makeover a nightmare.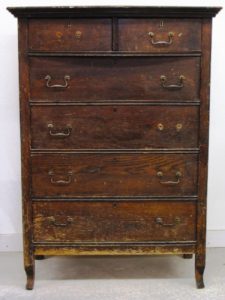 Antique shops and garage sales are a great place to find old pieces of furniture that are strong, sturdy, and looking for a little TLC. When shopping, ask the owner for any additional information they may have about the piece including when it was originally purchased and what it was used for.
Best furniture is made between 1900 and 1950. In the 1960s, furniture construction started to get cheaper by cutting corners and making cheap pieces. If you find a piece you are absolutely in love with and can't go home without, go for it.  Furniture makeover are gaining popularity because they are cheaper and fun to customize.  Before you jump in with both feet, think through your DIY project with these tips in mind.