Painted Furniture Ideas
Of course you can shut the door and pretend like it doesn't matter. But it does, you know it and I know it. Make your closets a statement piece by painting the inside to match the room. Professional painters and interior designers agree that painting the inside of a closet can improve the appearance of the closet and the room itself. A painted closet is a perfect project for a rainy day or when it's too chilly for outdoor painting.  
It's also a perfect use for leftover paint. Here's a few things to keep in mind.
Bedroom Closet
 Keep your bedroom closet bright so you can see your clothing and won't accidentally pick up the navy sweater instead of the black one. Avoid primary colors, because they can tint your clothing to look slightly off. Choose a shiny sheen, at least semi-gloss because it will reflect more light in a small space.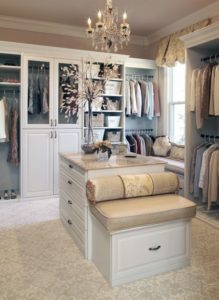 Pantry
 I love a painted panty, it is such a bright and cheerful addition to the kitchen. Be sure to use a durable paint that can be wiped clean over and over again. If you have a closed off pantry, you can select any color you'd like – bright red, sunshine yellow, or robins egg blue. If your pantry is open to the kitchen, you might want to choose a shade that blends well with the rest of the room.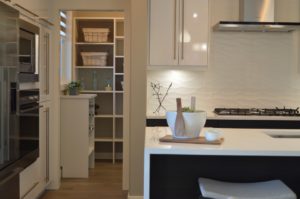 Storage Closets
 For closets full of snow boots, cleaning supplies, hockey gear and flattened soccer balls, choose a darker color like navy, grey, or dark green. It de-emphasizes what is inside. Darker colors are more forgiving and make messes less noticeable.  I hope this article has inspired you to get your own painted closet.