One of my favorite Christmas traditions growing up was the Festival of Trees, where Christmas tree decor is at its finest. I grew up in Utah, and the Festival of Trees was a charitable event where donors made out-of-this-world Christmas trees with amazing themes and the trees were either purchased or auctioned off for the local children's hospital.
I remember walking down row after row where hundreds of beautiful trees were on display. Giant trees I could barely see the top of, trees of every color, shape, size, completely covered top to bottom in decorations I had never even imagined.
Since I've grown up, I was pleased to learn that this childhood tradition of mine is held all over the world. Various charities and organizations host a festival of trees to raise money for a good cause and open the display to the public for an evening of charity and Christmas cheer. Enjoy a walk down memory lane with a few of my favorite Christmas tree decor themes that might just inspire your own holiday season.
    What a fun idea to incorporate your advent calendar right into your Christmas tree decor.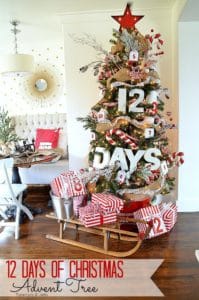 tatertotsandjello
    This tree is not just flocked, but flowing with snow, makes it look like it's still in a glistening, snow-covered forest.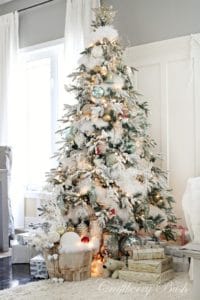 Photo Courtesy of: Sugar Bee Crafts
    The flowers on this tree caught my eye, but then I noticed the delicate names of the Savior placed throughout. What a truly beautiful idea.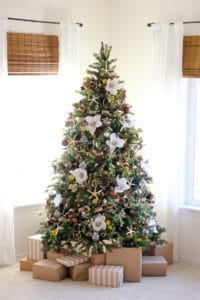 Photo Courtesy of lilluna.com
    Let it snow! If you have a bright teal Christmas tree, your decorations should probably be fairly neutral, and this tree pulls that off impeccably.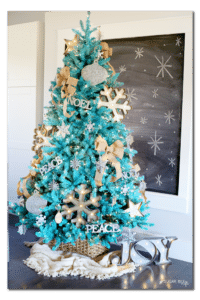 Photo Courtesy of Love the Day
 
    Who knew a black and white Christmas tree decor could be so beautiful? I love the use of actual picture frames in the branches.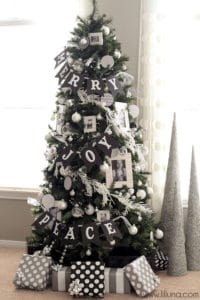 Photo Courtesy of Tom Kat Studio

    This woodland Christmas tree has everything from antlers to log slices and everything in between. I would have never thought to use black ornaments, but they work here perfectly.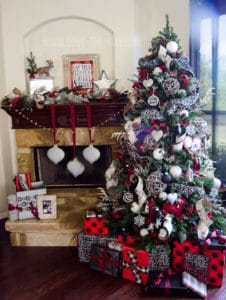 Visions of sugarplums are definitely taking over in this whimsical lollipop Christmas tree.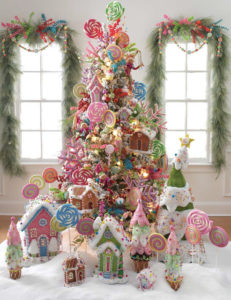 Can you believe that this tree is actually completely bare? Underneath this amazing display is bare branches brought to life with lights and bright ornaments in silver and white.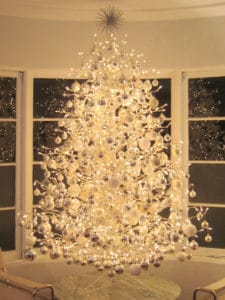 Photo Courtesy of Photo Panda
    This is a perfect Christmas tree decor theme for a family of boys, Marvel would be proud.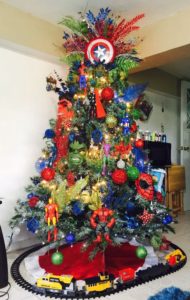 Can't pick your favorite color? No need, have them all! 
Photos Courtesy of: One of a Kind
 I love the use of ribbon in this tree, like a beautifully wrapped package.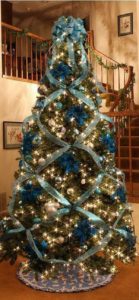 If Darth Vador is coming to Christmas, this is definitely the way he would make his entrance.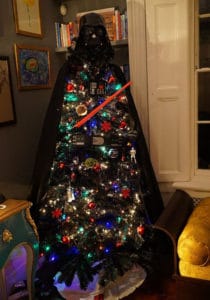 Coastal Christmas tree decor can be absolutely beautiful and I love how this tree pulls the outside in.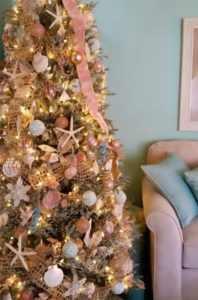 The patriotic tree is always one of my absolutely favorite ideas, especially for families who may be celebrating without their loved ones who are serving the country and away for the holidays.

Photo Courtesy of Flag and Banner
 What a beautiful display of over sized snowflakes against the dark green sprinkled with twinkling lights is absolutely perfect.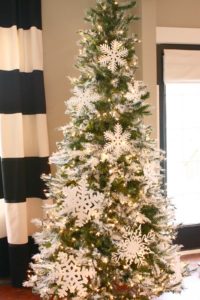 Red and white is Christmas delight! I love the candy elements, giant balls, and whimsical nature of this peppermint tree.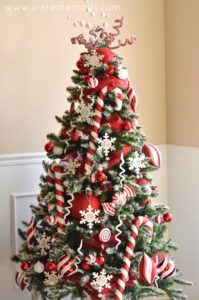 Photo Courtesy of : Ucreate Crafts
Love these ideas?  Save them in a pin!