If the tree is the star of the holiday show, the mantel is definitely the supporting actor. It does much more than hang the stockings with care, it showcases your Christmas style, and is a display of holiday cheer.
Personally, I love a simple mantel because my tree is near the fireplace, and I don't want too much overpowering one room. Here are several Christmas mantel decor ideas to fit every home, style, and budget.

    This is simplicity at it's finest. Lanterns, candles, ribbon, and a wreath. It helps that the mantel and fireplace itself are absolutely gorgeous. I also love that Ballard Design didn't just decorate the mantel, but added the tree and deer on the hearth as well. It brings the entire look together.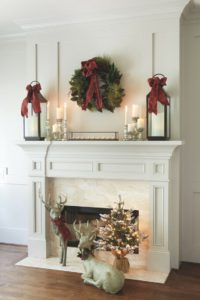 This looks like cozy Christmas setting for two. The large statement chalkboard doesn't leave a lot of room for anything else, but it works perfectly. I love the fir garland around the board and the simple candles to balance out the look. Lilacs & Longhorns did a great job achieving a cottage Christmas feel.  
I had to look really heard to find my perfect stocking for my family.  On Amazon you can get 5 Personalized Hand Knitted Christmas Stockings
 that will complete this look perfectly.  I am so glad I found them!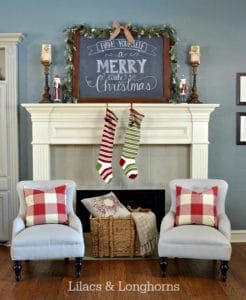 Choosing one color to accent on the mantel is also a great decorating idea for the holidays. I love how sandandsisal.com used red to coordinate with together.  It just pops against the white mantel. The berry garland is simple and classic and the large green wreath provides a nice focal point.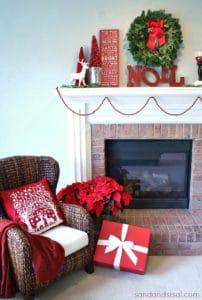 This Christmas mantel decor is the stuff dreams are made of. The beautiful blue backdrop is perfect for a sparkling display of white candles in various shapes and sizes. They used different types of candle holders, sticks, jars and create perfect symmetry from both sides, pulled together with a beautiful green garland.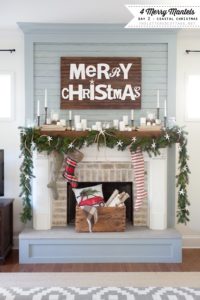 No mantel? No problem! You can still hand your stockings next to this faux mantel made from a canvas and a little chalkboard paint. Good thing Santa has limitless magical powers.  If you need chalkboard paint click here
.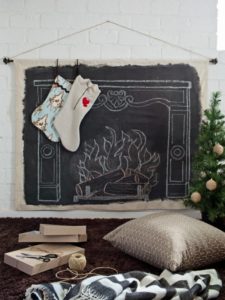 Chalkboard Fireplace tutorial    The bright green in this Christmas mantel decor make it pop! It's the perfect look against the silver and is a simple design that makes a big impact.  You can snag a set of 3 silver Candlesticks from Amazon
 that bring beauty to your hearth for years!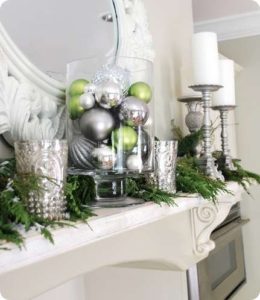 Photo Courtesy of centsationalgirl.com
    This whimsical mantel is adorable and fun for the holiday season. Bright paper packages on the hearth and on the wall with bright ornaments and fringe garland brings together elements of a child's fantasy land.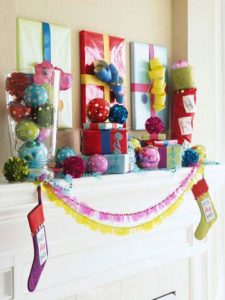 Photo Courtesy of: thebudgetdecorator.com
    Less colorful, but still impactful is an all-white mantel showcasing a beautiful chalkboard nativity. I love to have some areas of my home accent Santa while others focus on the Savior. This is a beautiful statement piece displayed prominently throughout the season.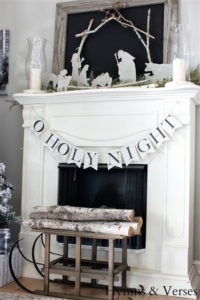 Photo Courtesy of: electicallyvintage.com
    Who says red and green are the only stars or the show? This teal mantel is adorable with a snowman theme and coordinating pine cones and shiny ornaments. What a darling idea!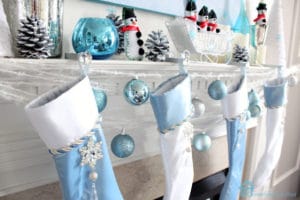 Photo Courtesy of remodelandolacasa.com
 I want to buy a pair of ice skates, just for this idea. How cute is that?!  You can find Ice Skate for Christmas decor here
 they even light up!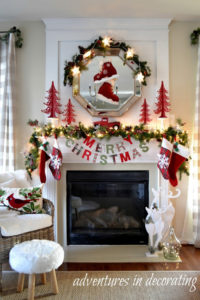 Every cabin Christmas needs a healthy dose of plaid. I also love how they used one large wrapped gift in the center and anchored it with plaid tied tree. The small details throughout create a beautiful centerpiece.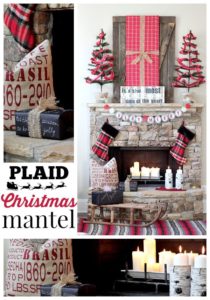 Photo Courtesy of: Refreshrestyle.com
 This is a very elegant mantel with actual full-size trees beautifully decorated. I also love the hanging stars and the candles that fill the fireplace with soft light.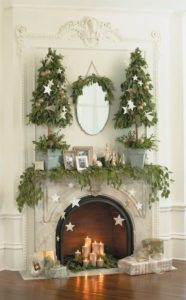 Photo Courtesy of: decoratingyoursmallspace.com
 Lighting on a mantel is important. I like to turn off all the lights and just have the tree and the mantel, this mantel incorporated lighting so well both on the surface and up into the wreath.  I don't have an outlet up high on my mantel, so I use this classic pine garland that is battery operated
. It looks beautiful with no ugly cords to be seen.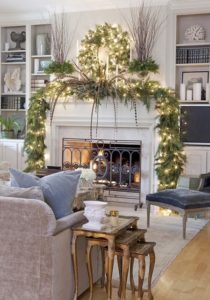 Photo Courtesy of styleestate.com
 What a simple and beautiful idea by using trees that are traditionally sold as part of Christmas village sets, and use them against white candles in glass jars. Simple, beautiful, perfect.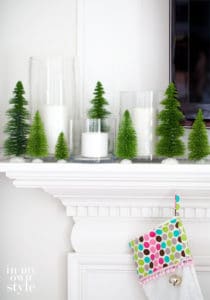 Photo Courtesy of: inmyownstyle
 Someday I will have white furniture when I no longer have messy children and sticky toddlers running around, until then I will swoon over beautiful white Christmas scenes like this one.  For now I just use my white reindeer like the ones below, found here
.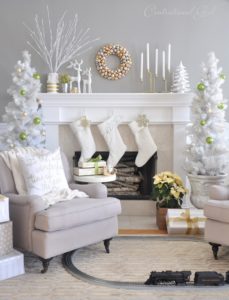 Photo courtesy of: centsationalgirl
Need more Christmas decor ideas?  Get inspired by these articles: Christmas Decor Ideas For The Home, 16 Extraordinary Christmas Tree Decor Themes and 10 Amazing DIY Christmas Craft Ideas