Spring is one of my favorite times to decorate. It's bright, it's colorful, and it's a breath of fresh air after winter has melted away.
After Christmas, I typically go very minimal in my home décor. January and February are simplistic, clean, and easy. When it's time for spring décor, I'm ready to add in a little more color, a little more oomph and make my home what I really want it to be. Plus, who doesn't love to see flowers everywhere they look? Amiright!?
When you walk through the aisle of Hobby Lobby, HomeGoods or your favorite home store, it's easy to see how quickly you can spend hundreds of dollars on décor. Décor is, by nature, trendy, and spending a lot of money doesn't make a lot of sense. Instead, DIY your own home décor and love it for a season without feeling like you invested your life savings in fake florals.
Here are a few ideas for easy Spring home décor crafts to make and love.
1. If you have a chalkboard, it's time to switch it to spring. If you don't, it's time to get one. How to Nest for Less gives a fantastic tutorial on how to create this darling Easter chalkboard. The best news is that you don't need to have any artistic ability to create a beautiful spring scene for your home.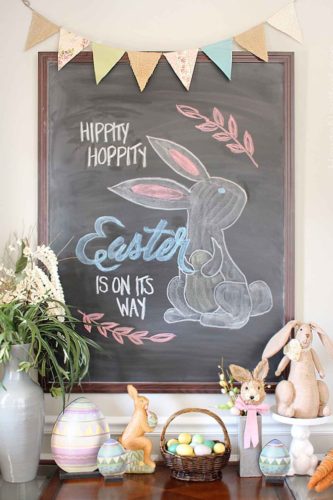 2. Cotton blossoms are a classic spring décor, and it's easy to see why. They provide contrasting color, texture, shape, and are still neutral enough to fit in any style home décor. You can find cotton blossoms almost anywhere, but you can also make your own with cotton balls and stems. Cotton blossoms are easy to place. All you need is a container. Any container. Glass vases, pitchers, bowls, apothecary jars, anything works and it's a beautiful accent on a side table, mantle, or kitchen counter.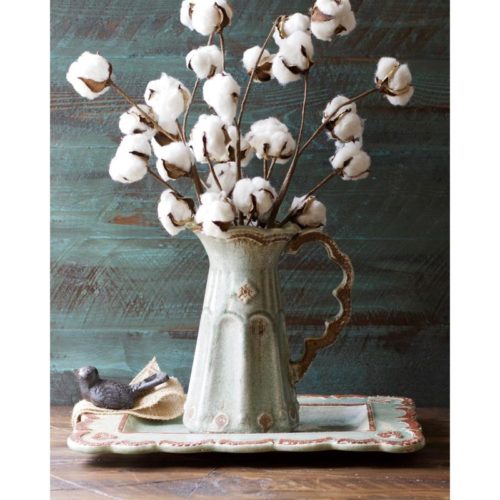 3. A tiered tray is a great spot for seasonal décor. You can make them as full or as sparse as you like. I love the mason jars on top with a pop of bright color. You can make your own tiered tray with candlesticks and trays from the dollar store, or you can find one to make your own.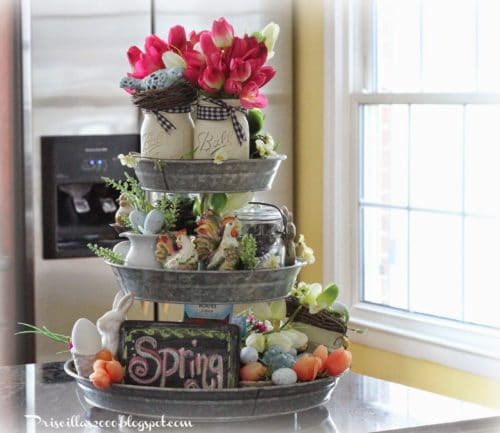 4. Bring on the green! Nothing says spring like freshly mowed grass and pops of bright green color. This simple centerpiece gives you both. This is REAL live wheat grass. You can grow it easily in your own home. It's less expensive than the fake stuff and brings a more authentic feel to your décor.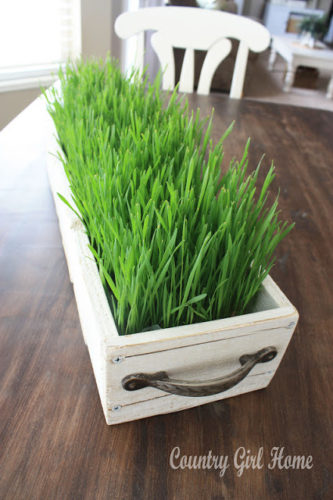 5. If you have a spot in your home that calls for oversize décor, look into large galvanized steel buckets, or soft wicker baskets. Filled with an abundance of tulips, boxwood or bright white eggs is a great way to bring in spring while keeping the colors subtle and classy. Great ideas confessionsofaplateaddict.blogspot!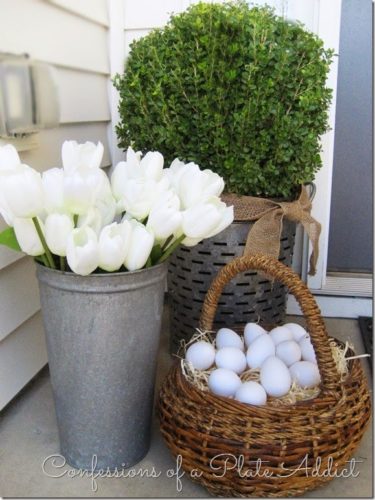 6. Fresh flowers are always a good idea for spring décor, but why not go the extra mile? Choose an oversized vase, and fill the base with bright colored eggs. Keep a smaller vase in the middle filled with water for your blooms and enjoy as a beautiful centerpiece or side table accent.

7. A spring wreath is a must-have for spring décor. I love this one because It's classic spring, but doesn't scream Easter Bunny. One huge blossom surrounded by soft cotton blossoms and beautiful greens creates a beautiful accent for your front door. Best of all, it's simple to make with a few easy-to-find supplies.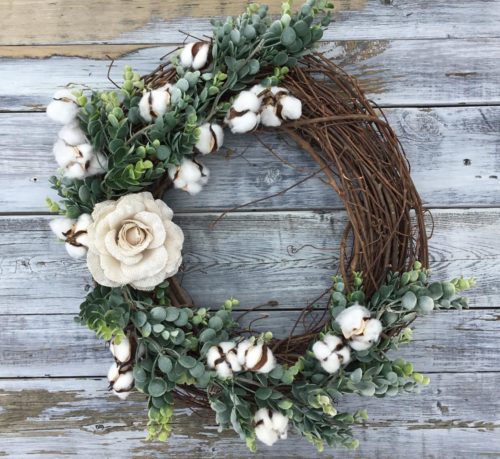 8. If you have a wide mantel space, large prints are a great way to bring in Easter to your living space. You can find almost any style of spring print with a little help from Google. Whether you prefer modern, traditional, farmhouse, watercolor, or abstract art, find something you love, print it off yourself or at a photo printing store and enjoy.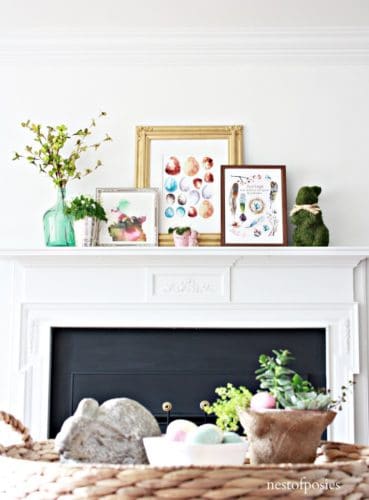 9. Keep it clear with large glass vases and a few stems. Space creates a beautiful look. Home decor doesn't have to be overstuffed and filled to the brim. Sometimes the simplicity is the best way to go.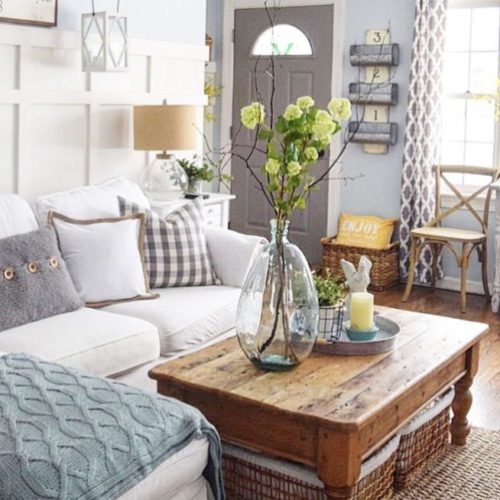 10. I love to keep my kitchen table decorated when I can. This is a great way to keep your décor fresh and new without spending hundreds on fresh flowers. Just a few tulips and full bunches of babies' breath gives you exactly what you need for a beautiful table scene.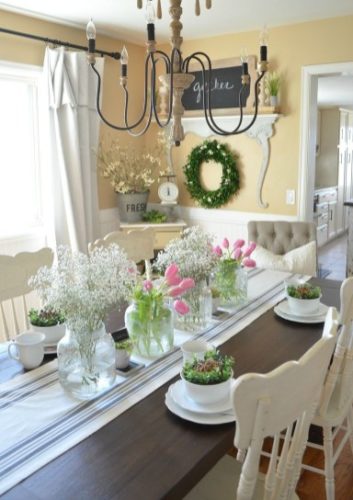 11. How cute are these jelly bean topiaries? If you are looking for a craft that kids can get involved in, this is a great option. Let everybody help and have a whole family of topiaries to celebrate the sweetest season!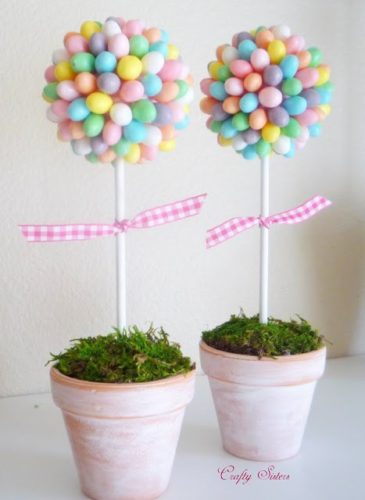 12. Spring blooms are always a perfect addition but don't be afraid to grow your own. You can start tulip bulbs in the fall and enjoy beautiful buds just in time for spring. These tulips give a neutral mantel the perfect pop of color.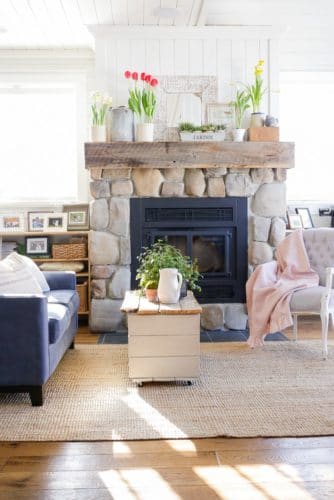 13. Another option for a spring mantel is to go for symmetry. Large stately vases on both sides, symmetrical candles, and a colorful wreath give a beautiful scene for any living space.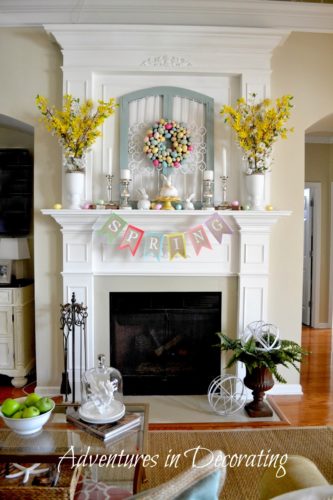 14. Make your own spring candle holders with colorful eggs. You can use glitter eggs like these, muted colors, jewel tones, or anything to match your own style. Create different heights to add visual interest to your mantel, table, or nightstand.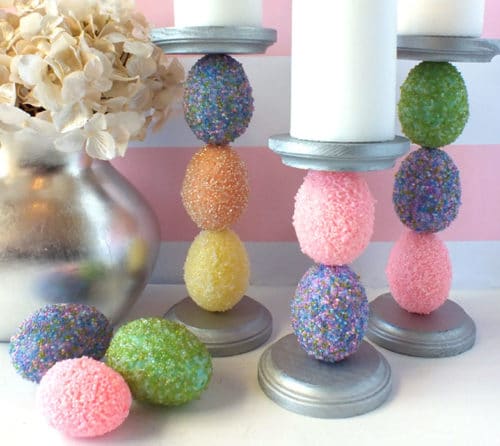 15. What says spring more than mason jars and a pop of yellow? That is clearly a rhetorical question because this combination is perfection. Good job yellowblissroad.com! You can find these cute blue-toned jars anywhere that sells mason jars. Add your favorite flower and you have a perfect spring accent.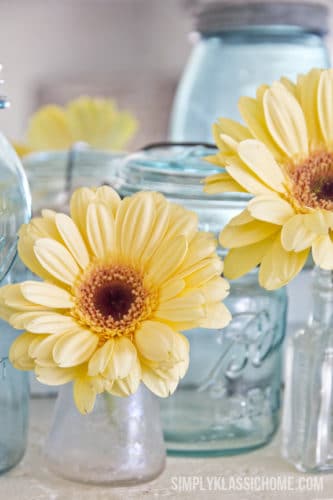 These are just a few of the hundreds of darling spring crafts you can make to fill your home with light, color, and textures of the season. Can't wait to see what you come up with!
Love these ideas? Pin them!