Handmade Christmas ornaments are a beautiful way to remember past holidays into the tree every year and they are super fun to make.
Handmade Christmas ornaments also make great gifts! They are inexpensive, personal, and infinitely better than another plate of cookies. Gather your supplies and clear off the kitchen table, here are 12 handmade ornaments you can make with your family or friends this year.
The classic bauble ornament can easily be upgraded with a little DIY supplies. All you need is a little embellishment from sprigs of holly. I also love the frost spray that gives a winter look.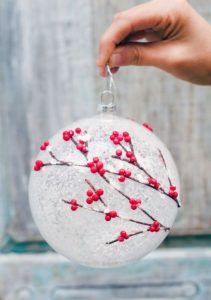 For preschoolers, these Sesame Street ornaments would make a great craft to do together. Simply fill clear balls with crimped filler paper and add a face. Simple, easy, and the kids will love to see their favorite characters on the tree.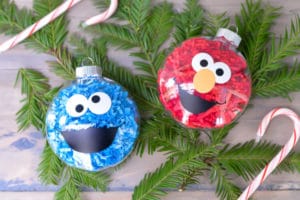 What an amazing way to document each year with a special photo ornament that is classically beautiful. The natural wood ornaments add a beautiful rustic touch, which I absolutely love.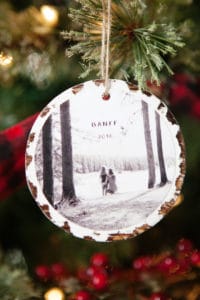 If you have a growing stash of fabrics, these Scandinavian ornaments are a great way to use them up. These do take a little more time, but are a fun way to make personal ornaments that are easy to pack and look perfect every year.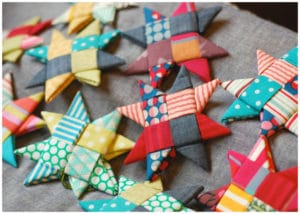 These little guys might be my favorite DIY ornament ever. I love their little faces and their sock hats are simply adorable. Best of all, they are completely easy to put together and enjoy all season.

You can't have handmade ornaments without popsicle sticks, you just can't. I love these little angels. They are customizable and completely adorable.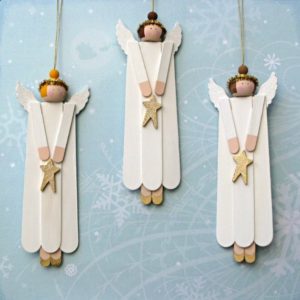 Ribbon, beads, and thread is all you need to create adorable tree ornaments. These are great to make with a group because they go together very quickly. Personalize them with your favorite ribbon colors and patterns.
What a cute way to remember all the funny things kids ask Santa for every year, make a list ornament! Don't forget to check it twice!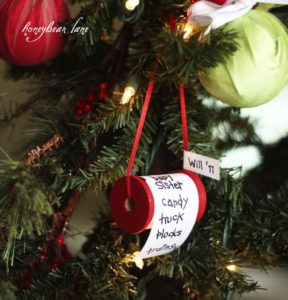 If you're looking for an ornament gift, this makes a great option. Incorporate cute pictures of the kids in a classic design any grandparents would love.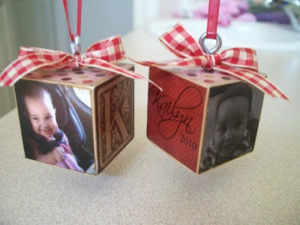 These personalized Christmas ornaments make a great gift for friends or neighbors. My child received on form their school teacher one year, what a great idea! Best of all they are inexpensive and easy to put together.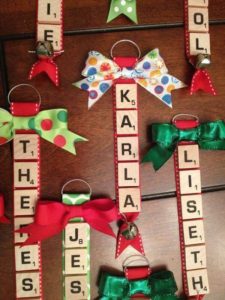 These ornaments are so beautiful for such a low cost.  Newspaper strips are glued, with a mod podge seal.  Sprinkled with glitter and add a little tag on top.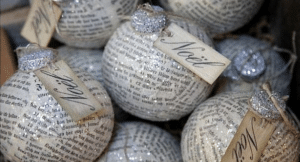 Glass or clear bulbs create the perfect foundation for personalized ornaments. This idea would be adorable for a mother or grandmother who loves knitting. Look for tiny objects at hobby stores in the dollhouse section to create beautiful personalized ornaments for each member of the family.