Summertime is my favorite time to craft. I love making my own projects and adding charm to my home. Often home decor can be pricy, and let's face it, a luxury. If your budget is a little tight but you still want to feed your creativity, then have no fear. Here is a list of 11 cheap DIY projects that are on my list to do, or have been great additions to my home already.
Framed Dry-Erase Board
This project is so cheap, it will cost you just a dollar or two. Grab a frame at the dollar store, and some cute scrapbook paper. Frame the paper and walla! Cute message board! If you want to be fancy, buy magnetic strips and attach them to the back. Now this message board can go in a locker at school, or at home on the fridge.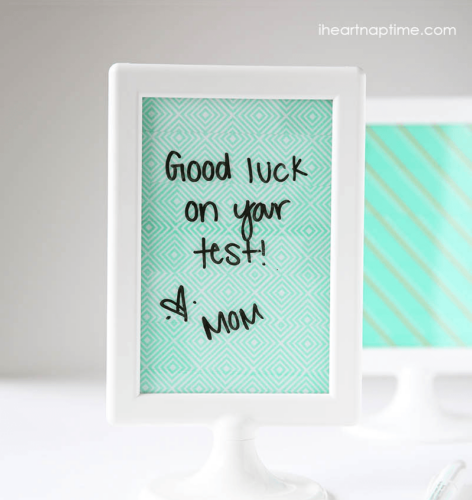 Cutlery holder
If you have some old soup cans, and a slab of wood, you can make this cutlery holder. How cute is this for your next picnic or BBQ party. I love the handle at the top and the finishing labels. This image give you the tutorial in a general way. I tried to find the owner of this idea, and although it is all over pinterest I couldn't find the original genius to give credit to.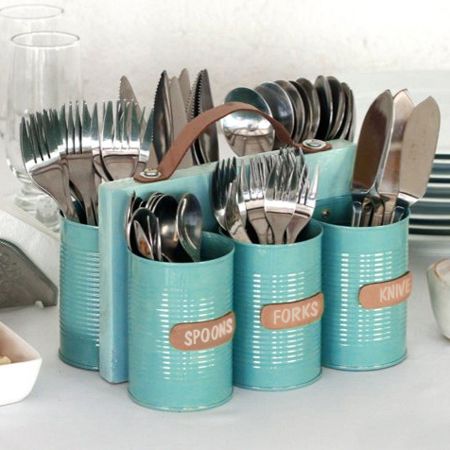 Farmhouse Kitchen Crock
I love a farmhouse kitchen project. This project requires three wide-mouth mason jars. (Thin mouth won't hold as many tools). These jars have been painted with chalk paint, and then lightly sanded over the "Ball" lettering to give rustic charm. Then make a simple wooden frame for them by using a clamp and wood glue or a small brad nailer. Then whitewash the wood. You can learn how to whitewash here. Vinyl lettering, "flip. Stir. Whisk" makes this project adorable! This fun project is for sale at stacyturnercreations.com if you aren't up for making your own.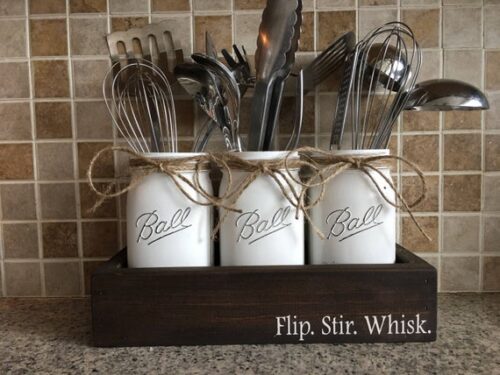 Frames
Building a frame is one of my favorite projects. I have made dozens over the last year, because they only take an hour at most, and can be custom stained and made to your specific dimensions. If you haven't tried to make a frame, you have to give it a go! Check out my step by step tutorial here.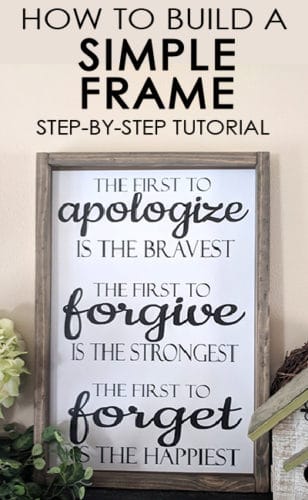 Coffee-house-style chalkboard
Chalkboard art is always an easy way to add decor to a room. Check out my article on how to pull off amazing chalkboard art here, once you have your supplies. You will want to invest in a good chalkboard. Check out hobby lobby and use their famous 40% off coupon. Cheap chalkboards aren't "seasoned" and often aren't forgiving to erase marks.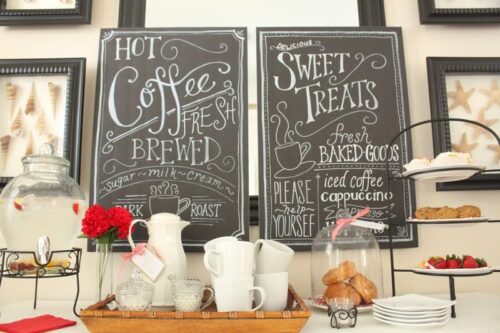 Spray paint air vents
My air vents were looking so hammered the other day, I figured I would go buy some
new ones. I walked around my room and counted 14 vents I would need to purchase. At my local hardware store, they were $9 each. That is $126! And then I realized…I could just paint them! I spent $6 on spray paint, and now, my air vents look brand new! Save money and improve your rooms look with this super easy DIY project!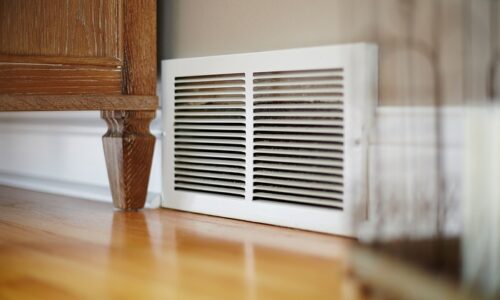 Crate Shelving
Crate shelving has been all over Pinterest. It is so popular because it is cheap and easy to make. Crates can be found at a thrift store, Hobby Lobby or even some dollar stores.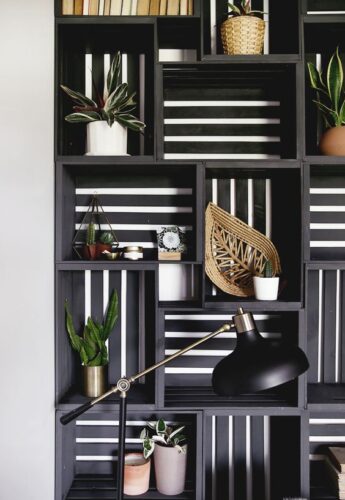 Choose your beloved color and start painting.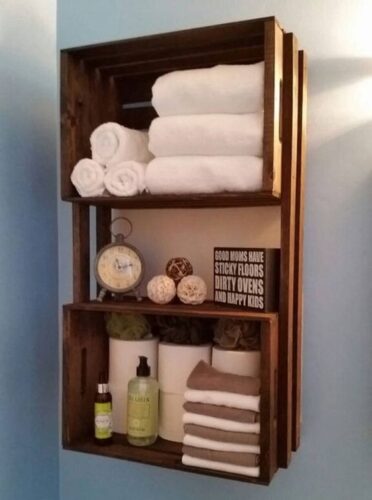 There are all kinds of placements out there, I love this one in the bathroom, and the black shelves look amazing!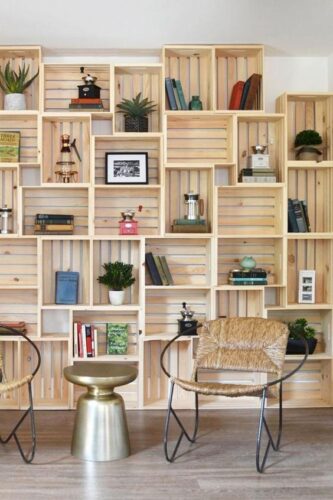 Decorative plates
Do your kitchen walls need a little something? These adorably simple plates add just enough personality without becoming a huge distraction to your kitchen. Buy plates from your dollar store and then paint whatever silhouettes you prefer. If you don't want to stay in the lines and paint, use a Cricut or other cutting tool and create vinyl images or lettering. Click here to learn how to paint on glass.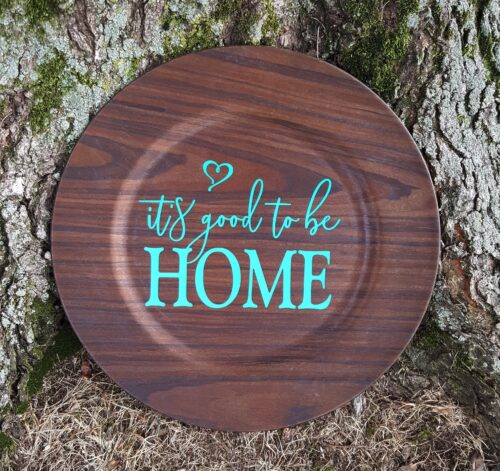 Jewelry stand
My jewelry stand broke- so I super glued it. Then in the dark, my husband knocked it onto the tile floor, so it broke again. I super glued it again. Last week my youngest was the culprit and broke it a third time. So I needed a new cheap DIY project to solve all my problems! I found a couple that I love, mainly because they hang on the wall, and won't be broken by my family.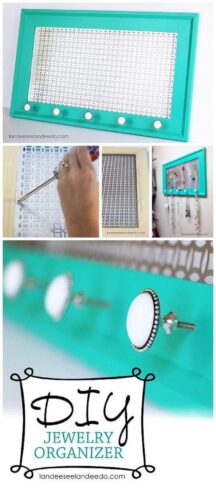 This first one is from landeelu. She used wire cage from hobby lobby, behind a picture frame for her base. Then add decorative knobs and hooks to finish it off. I love how simple it is, and of course the color she chose!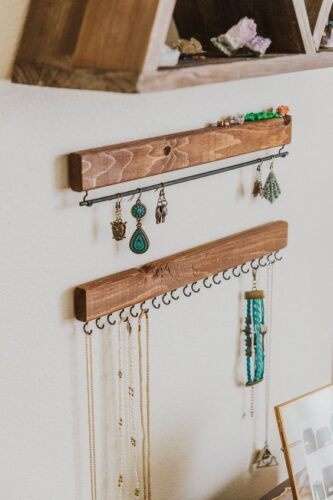 This second one was found on etsy, but for over $50 it is not in my price range. I went to home depot and bought a 2" plank, and cut it to 16″ long. I stained it, and then used a drill to pilot holes for the tiny hooks. Install the screw hooks into one edge of the plank. Attach it with strong command strips (I love command strips! I use them weekly around my home!!). My supplies will cost me $6.
Clipboard Collage
I love this idea has been floating around on Instagram. These clipboards can be found in 3 pack at a dollar store. In this photo, they used the natural earthly color of the clipboards, but ou could easily paint them if you wanted a black base or a splash of color.
Display photos or children's latest artwork. This adds personality and variety to any home decor, and take so little time! I love how easy this DIY project is!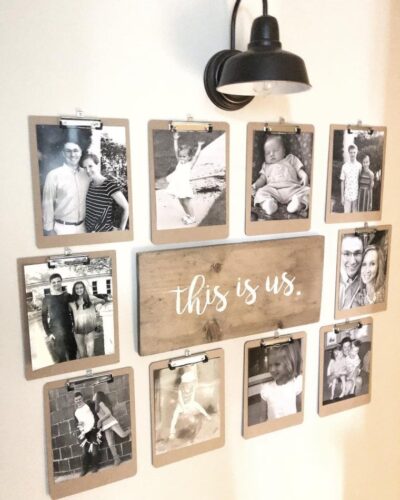 Front Door Wreath
I love a good wreath, don't you? But they can be so expensive! This sweet "hi" wreath is absolutely perfect! Again, this was found on etsy, and for 50$ you can have it delivered right to your door. I prefer though, to make my own and save some money.
I always seem to tweak things a bit to my liking. Hobby Lobby sells grapevine wreaths for $10- use a coupon to save 40% off this. One thing I love about hobby Lobby is the fact that their artificial flowers are almost ALWAYS on sale. Hobby Lobby also has thin wooden words for about $3, each. They have sayings like "hello", "adventure" "welcome" "blessed" etc, so pick one you love and paint it whatever color you want.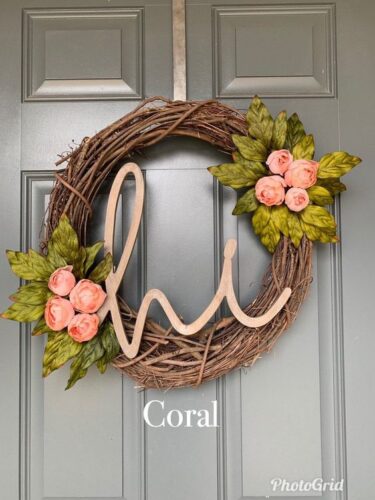 This wreath is on my to-do next week, and I will spend about $15 making it.
Good luck on your IDY project! I hope these gave you some fun ideas to create something new in your home!