My husband loves to barbeque. Nothing makes him happier than meat on a grill, or as of late the smoker…start salivating now! 
BUT there's just one small problem. We have our grill on the deck, and our table inside. This means that he has to take the meat out on one tray, followed by all the tools, seasonings, utensils, and various other supplies necessary for cooking. Then, he brings everything back inside only to wait until the meat is done when the entire process is repeated.
Back and forth, back and forth, through two children and a sliding glass door wherein some type of food or sauce or juice is inevitably dripped or spilled on the floor in the process. Outdoor eating to the rescue!
The ability to eat and cook in the same area is a lifesaver.   It also give you a large area to host friends over for a nice outside dinner!  Here are 10 DIY build-around grill projects to keep your backyard barbeques convenient and beautiful.
    This basic seating is creating with cinderblocks on four sides and wood posts on top to create a beautiful countertop. Add a couple of bar stools and you're ready to go.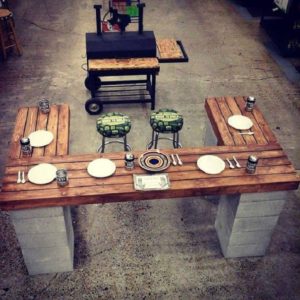 I love this idea from Lowe's that uses your existing home structure and simply adds a countertop, making plenty of room for friends to gather.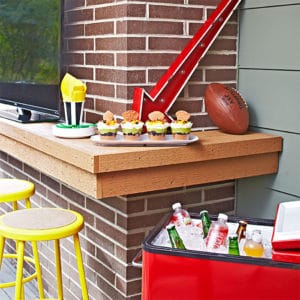 An outdoor eating area is more than just a countertop, create additional seating areas to encourage your guests to spread out and relax.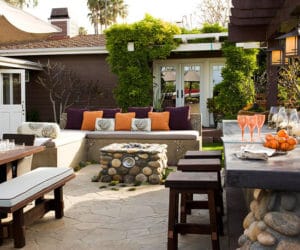 If you don't have the budget or space for a large bar, consider using a kitchen cart outside that gives you all the convenience without the permanence of a built-in bar.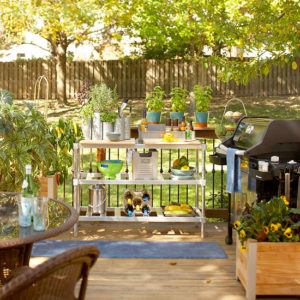 I love this idea for adding seating for a crowd, a bar rail is perfect for eating outdoors, and works great for kids as well.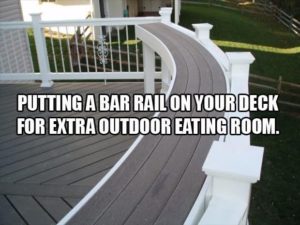 You don't have to be an excellent craftsman to create a beautiful and functiona outdoor kitchen space. Use crates as shelving and storage.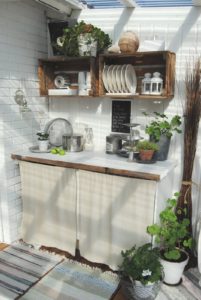 This DIY chatroom gives you complete plans for making your own built-in cabinets to create the ultimate grill space including a mini fridge right where you need it most.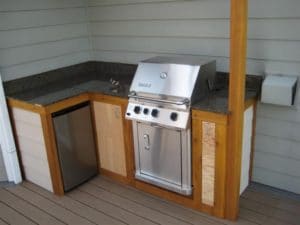 Can you believe this outdoor kitchen station was created out of basic supplies all found at IKEA? It's a pretty impressive project that has space for utensils, supplies, dishes, and even room for cleaning up.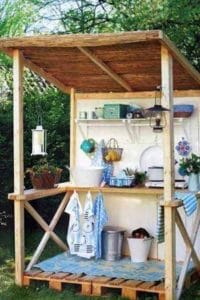 This summer cookout cart might just be the answer to all or our summer woes. Those sliding drawers and towel bar are pure genius.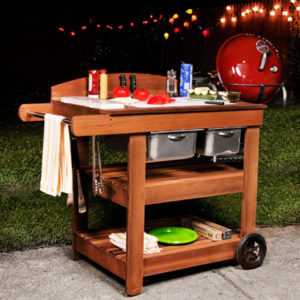 A murphy bar is a great outdoor cooking solution. Fold it down when you need it, close it up when you don't!