Let's face it, our patio furniture takes a beating. Between rain, wind, hot, cold, hail, snow, it must stand up to a lot of abuse over the years. Even if (on the off chance), we remember to bring it inside before the snow hits, it still get covered with dust, dents, and scratches moving to and from the deck and being hit with the more-than-occasional baseball, kickball, or electric scooter.
Over time, even well-kept patio furniture can suffer sun damage and fading, and eventually falls out of style. Here are 10 ways to save your patio furniture and make it look fresh and new this season.  
    Wrought Iron: If you have old wrought iron furniture that is less than beautiful, all you need to know is your favorite color. Pick up a can (or two, or ten) of spraypaint and you're ready to transform that wrought iron for good.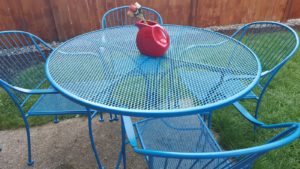 Aluminum: For aluminum patio furniture, dig into the garage and find your husband's car wax. It works wonders on restoring faded aluminum to its former glory.
    Wicker: Wicker furniture is beautiful, but fades and wears out over time. Spruce is up with spray paint. The wicker wood is a perfect host for a wide variety of beautiful colors. Add some new upholstery and you have a brand new patio set for a fraction of the cost.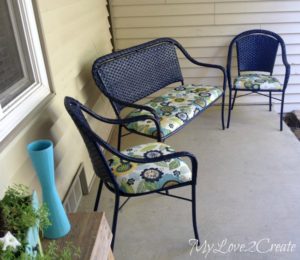 Indoor to Out: If you have an old, outdated set of indoor furniture, consider transitioning it to the patio. Can you believe this used to be an old 70's living room set?!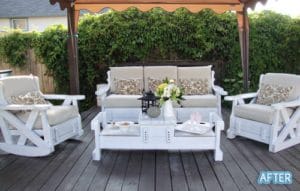 Pallet: Pallets are a great, inexpensive way to create patio seating that can accommodate a crowd.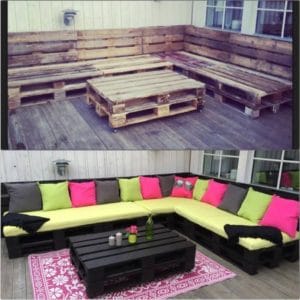 Cinder Block: A few cinder blocks and a few posts and you have yourself an outdoor bench! The cushions make it a cozy spot that you can easily put together in an afternoon.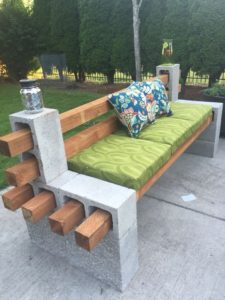 Sling Seats: Sling seat furniture can be difficult to makeover because the seats are connected to the metal and cannot be easily removed. However, thanks to In My Own Style, she has a complete tutorial on creating a beautiful makeover.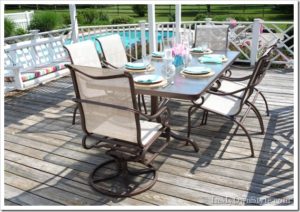 Chaise Loungers: Give your chaise a whole new look with a beautiful new fabric makeover that gives you two brand new custom chairs for less than $100.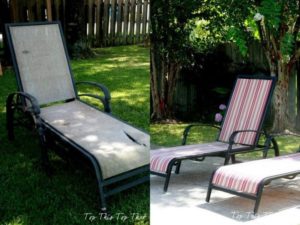 Resin: Plastic, or resin patio furniture is generally the most inexpensive to find, and the easiest to make over. Just a good cleaning and a little paint is all it takes.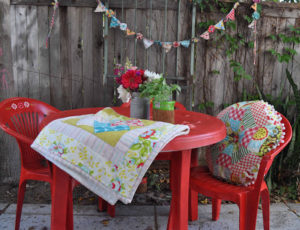 Shabby to chic: If you're ready for a complete patio makeover, you can completely transform your existing patio. This set from Hometalk was once an old, worn glass tabletop from the 90s and now it's completely modern, farmhouse chic.