Painted Furniture Ideas
You can get burlap from most fabric stores like JoAnns Fabrics.  You can also order it online if you need a lot and would like to buy it in bulk.  If you just cut it with scissors in what you think is a straight line, even a slight cut to the right or left of one of the threads, can cause a myriad of other threads to just fall out or unravel from the piece.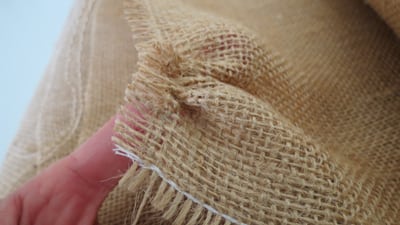 Here is the trick to cutting burlap with scissors.  Choose a thread line that you want to be your edge.  Pull on that thread until you have pulled it all the way out, and you have a long strip where the thread once was.  You may need to use your scissors a few times to get the thread out all the way.