Painted Furniture Ideas
The first thing you need to do is pick your paint colors. One will be your basecoat, and the other will be the stripe color. You can do a tone-on-tone (same color, different sheens), you can do a monochromatic effect (same color, different shades), or you can go bold with two completely different colors.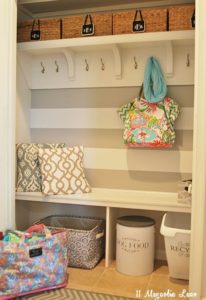 STEP 1:  Paint your base coat and allow this to dry completely. Painting stripes is not a one-day project, unless your base coat is already done. It is best to use the lighter color for the base coat and allow to dry overnight.